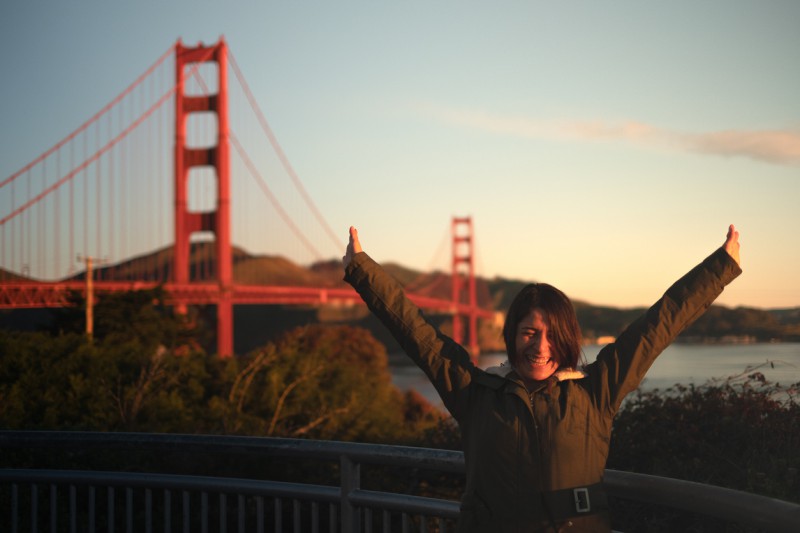 If you're interested in becoming a host family, San Francisco is one of the best U.S. cities to welcome an exchange student. You've probably already gathered from living in the Bay Area that it's a great place to be. Naturally beautiful, historically rich, and culturally diverse, there are so many things to love about one of the happiest cities in the United States!
We'll cover why being a host family in San Francisco can be so rewarding, including fresh ways to see and interact with students in this fabulous city. StudentRoomStay homestay families provide international students with a real American experience during their college or high school exchange programs.
Benefits of Being a Host Family for International Students
Inviting an exchange student into your home can result in a one-of-kind experience that enriches the lives of everyone involved. Being a host family for international students is a great way to gain a new friend, share cultural experiences, and earn a monthly stipend.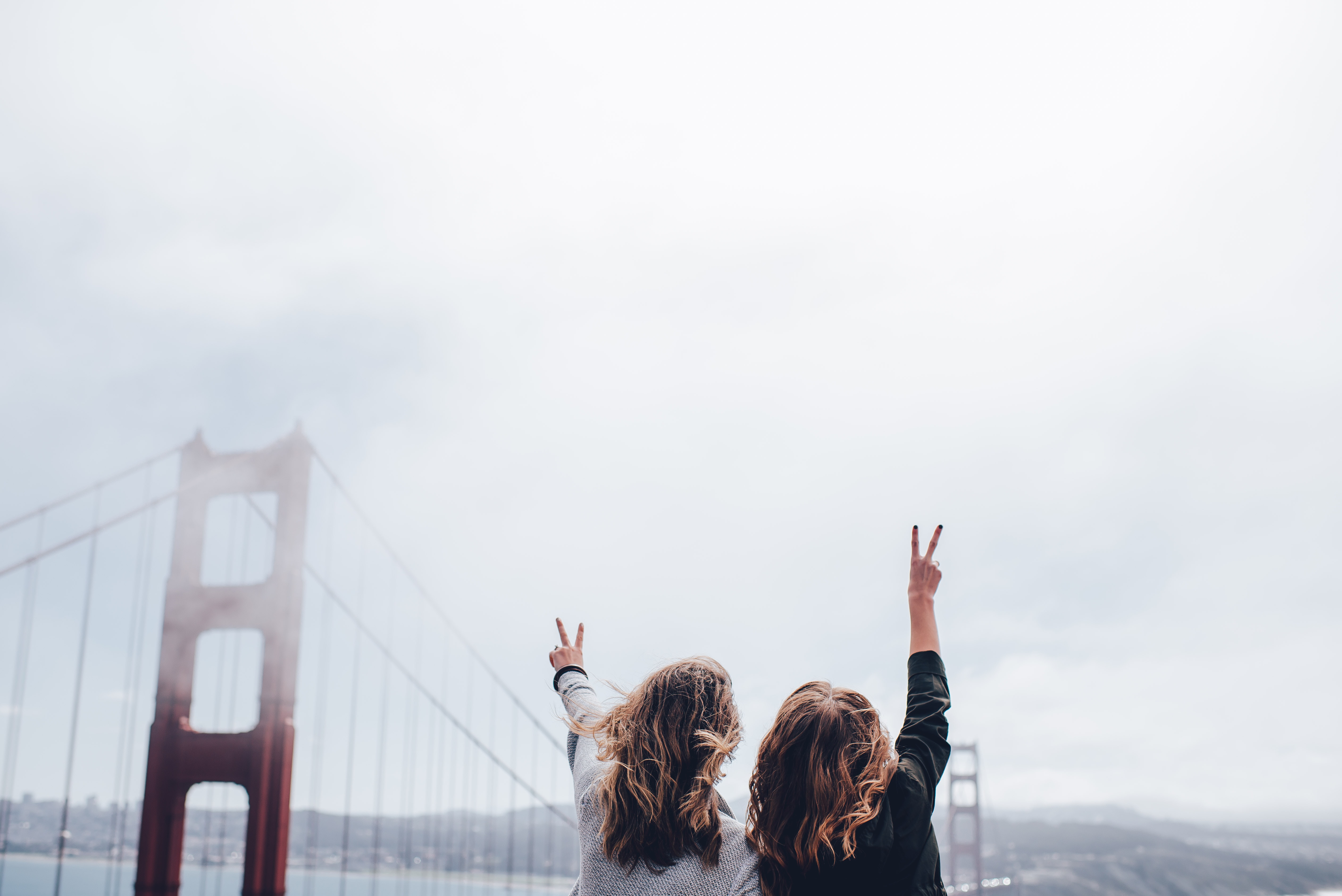 Lifelong Friendships
Host families welcome students into their homes for up to an entire academic year. This is between nine and ten months, giving host families and their students the opportunity to forge a bond that often results in lifelong friendships.
To help form that bond, we recommend involving your student in your family's day-to-day lives as much as possible. Sitting down together at the dinner table, providing them with familiar comforts, and getting them involved in family activities are a great place to begin creating that strong connection.
Sharing Cultures
Your exchange student's primary reason for staying with you is to learn. But did you know host families get an educational experience as well? As a homestay provider, you'll get to exchange cultural knowledge with your student and gain knowledge from them as well!
Your exchange student will be immersed in American culture through your eyes. It's a great way to share how your family lives and what the U.S. is like, specifically the unique culture within San Francisco. You'll also have the opportunity to learn about your student's way of life. Whether it's in their favorite meal, a memento from their home, or learning some phrases in each other's languages, host families also have the rare opportunity to expand their own worldview by learning from their students.
Extra Monthly Income
StudentRoomStay host families have the added bonus of a monthly stipend to compensate for any additional costs hosting an exchange student may bring. We offer one of the most generous payment schemes in the United States, providing families with up to $1,400 per month, depending on the length of your student's stay. We encourage each of our host families to have the most enriching experience possible, so we ensure there are no extra financial burdens for you to be able to provide the best experience possible for your student.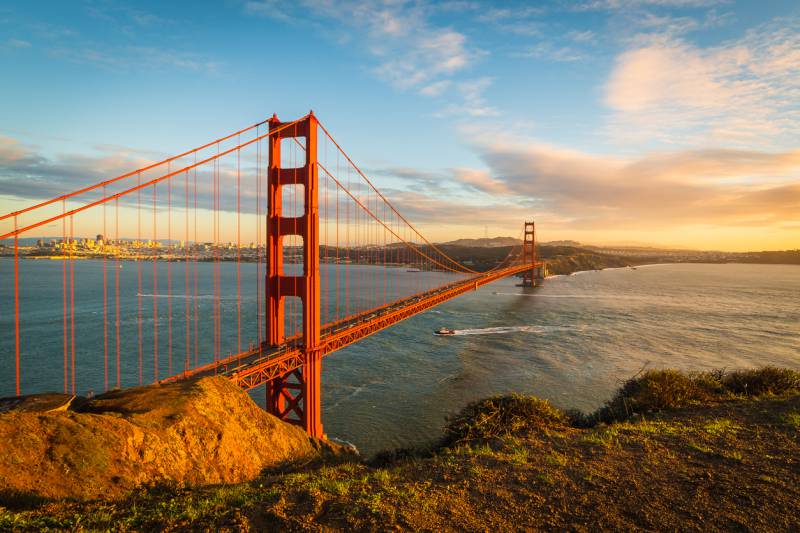 What Makes Being a Host Family in San Francisco Great?
As a host family, San Francisco is one of the best places in the world to welcome a foreign exchange student into your home. Whether you've lived here all your life or moved here recently, we'll clue you into some of the amazing things this great city has to offer. From world-famous attractions and delectable food to cutting-edge technology and cultural diversity, San Francisco has everything you could need right in your own backyard.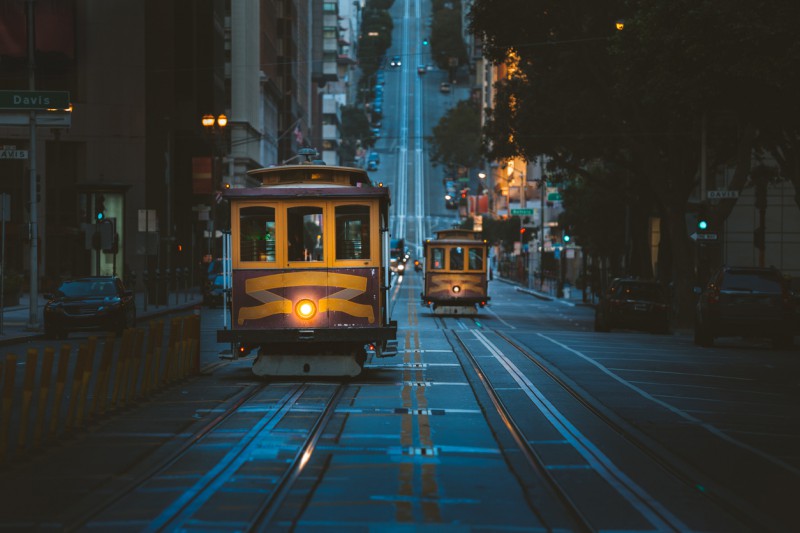 World-Famous Landmarks
There are so many things to do in San Francisco for families, but possibly none quite as famous as seeing the Golden Gate Bridge. Constructed in the 1930s, this iconic structure is rich in history. The larger-than-life 746-foot tall towers, undulating cables, and vibrant orange hue will give your students something to talk about. Don't forget to catch a ride on the famous cable cars while you're in the city!
Located in San Francisco Bay, Alcatraz Island is one of the most famous historical sites in the Bay Area. The National Park Service describes this small island as a former fort, military prison, and maximum security federal penitentiary. Arrive with your students by ferry and sign-up for a self-guided or staff-guided tour of Alcatraz.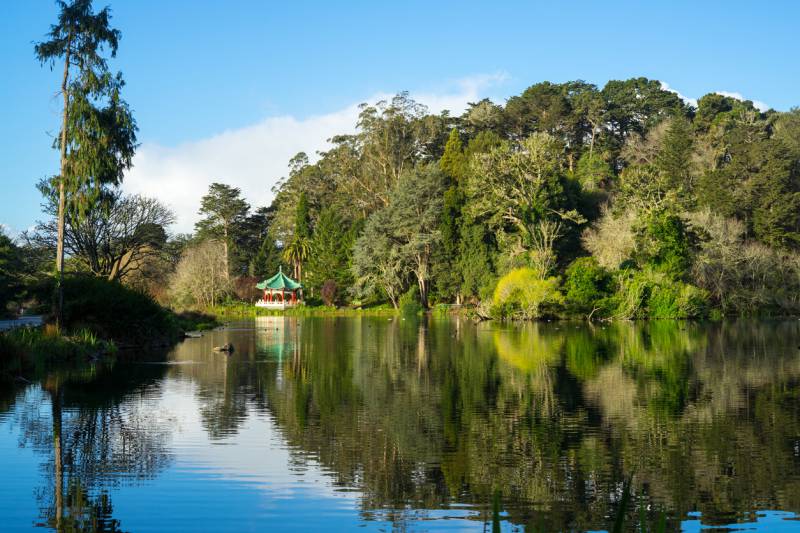 Amazing Parks & Nature
The weather in San Francisco is comfortable year-round. With temperatures consistently in the 60s and 70s, your student may want to venture outdoors and visit the city's amazing parks, taking in its natural beauty.
Golden Gate Park houses a variety of different outdoor attractions and events in one single, picturesque location. This sprawling 1,017-acre park welcomes more than 13 million visitors annually, and it's easy to see why. With gardens, lakes, picnic groves, trails, monuments, and more, international students will discover something new at every turn.
Step inside Golden Gate Park and hop on a Segway for a fun 2.5-hour narrated tour. You'll learn trivia as you're taken along major park attractions, as well as hidden gems. This eight-mile tour is perfect for visitors and residents alike!
Quite possibly the cutest natural attraction in San Francisco, the Sea Lion Center educates the public on how these adorable marine mammals ended up calling the K-Dock home. Spend some time enjoying the bay breeze and listening to sea lions' playful barks before heading upstairs to see the exhibits.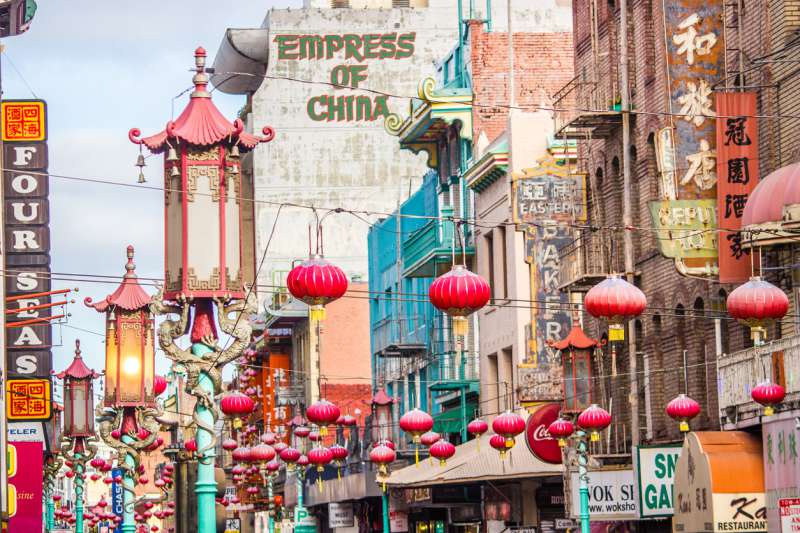 Enjoy Food From Around the World
San Francisco is a city with more places to eat per capita than anywhere else in the United States. With choices as vast and diverse as the people who call SF home, there's no shortage of international food offerings.
Take a trip to Chinatown and immerse yourselves in Chinese culture and cuisine. The largest Chinatown outside of Asia and the oldest Chinatown in North America, their restaurants are authentic and traditional. Hong Kong Clay Pot Restaurant is a great family-friendly dining spot. A unique way to enjoy familiar and fresh Chinese favorites cooked in a single, steamed clay pot, it's sure to be a meal to remember. After dinner, swing by Dragon Papa Dessert for a taste of traditional handmade dragon beard candy.
With Latino roots and a hip, eclectic vibe, Mission District neighborhood is the go-to destination for enjoying Latin American cuisine. A delight for the senses, Loló is a family-owned, non-traditional restaurant that takes inspiration from Mexican and Californian flavors. Try their panko avocado taco for the best of both regions.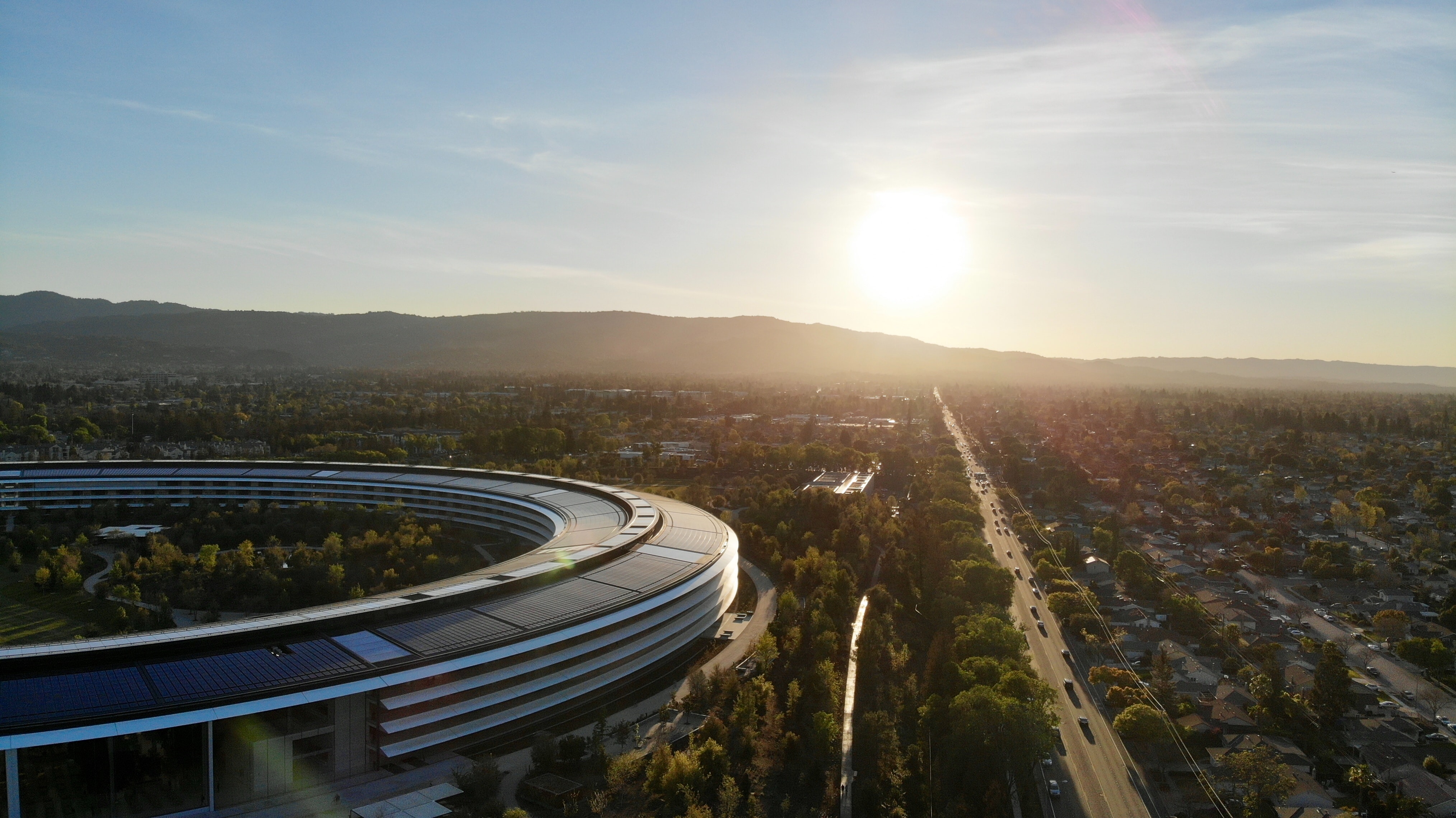 Be at the Cutting Edge of Technology
Nestled in the southern part of the San Francisco Bay Area is Silicon Valley. This hub of technology and innovation is where you'll find some of the most recognized names in the tech and social media industries. Facebook, Apple, and Google are just a few of the hundreds of notable names headquartered there.
A must-see for students on our San Francisco exchange programs, you'll be able to unleash your inner techie on a tour of the Intel Museum. Step inside the ultra-clean and highly automated silicon chip factory to learn about the little device from which Silicon Valley derived its name. Journey through decades of tech history and enjoy hands-on exhibits that are updated regularly.
A Vibrant & Diverse City
San Francisco has embraced diversity with more than 30% of the population having been born outside of the US. This mix of cultures and stories has the ability to make anyone feel at home, including your exchange students. A real example of San Francisco's blend of rich cultures and the proud people representing them is the diversity of the town's museums. The Asian Art Museum of San Francisco puts more than 2,000 artworks from all the major cultures of Asia on display. The Contemporary Jewish Museum celebrates the diversity of the Jewish community by presenting engaging exhibits for a modern audience. The Museum of African Diaspora is a contemporary art museum celebrating the cultural heritage of the people of Africa and of African descent. Its themes center around origin, movement, adaptation, and transformation.
You'll also find many festivals throughout San Francisco. Chinese New Year, Carnaval, and the San Francisco Pride Parade are just a few of the ways your exchange student can experience the eclectic mix of folks that call San Francisco home.
Become a Host Family With StudentRoomStay
With so many reasons to become a host family in San Francisco, we encourage you to consider signing up to become a host family this fall! The initial application process takes around 15 minutes or less. Once you're past the preliminary phase, there are just a few standard requirements that must be met in order to succeed as a host family, including necessary actions, like background checks and in-home visits.
All our host families have access to around-the-clock support, monthly visits to ensure everything is going smoothly, and a generous monthly stipend. Our staff are available 24/7 and ready to answer any questions you may have. You can rest assured knowing that we'll be there with you every step of the way, up until your exchange student is on their flight back home.