A lot of thought and research goes into the study abroad process. You may have already decided you want to study abroad in Philadelphia and now you're trying to piece together the rest of the puzzle in your homestay journey.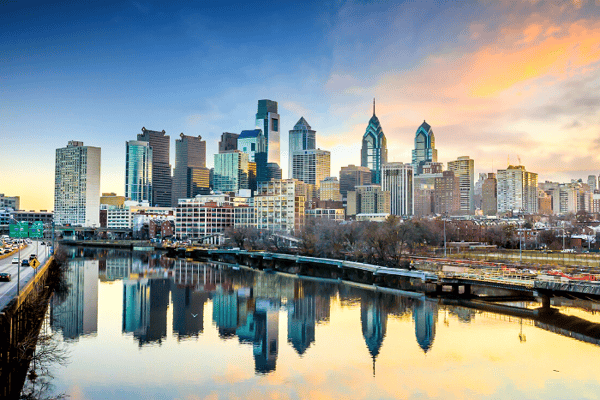 With all that information, it's easy to overlook the parts of your stay that don't revolve around where you'll be staying and what you'll be learning.
That is to say, while you're researching everything you possibly can about the city of Philadelphia, make sure you don't forget about fun and entertainment!
The City of Brotherly Love has so much to offer in the way of history, culture and food that it would be a shame to miss out. As a starting point, here are our picks for five fun activities for international students in Philadelphia.
1. Snap a Selfie With the Liberty Bell
It's almost impossible to visit Philadelphia without seeing the iconic Liberty Bell. This symbol of freedom stands proudly in the Liberty Bell Center just in front of Independence Hall where it was once displayed.
Though the Liberty Bell is cracked, it's still a shining beacon of pride for the city of Philadelphia.
And the best part? Visiting the Liberty Bell is totally free! Depending on when you're planning to check it out, you might have to wait in some pretty long lines, so make sure you're prepared for the weather and wearing comfortable shoes. It's well worth the wait.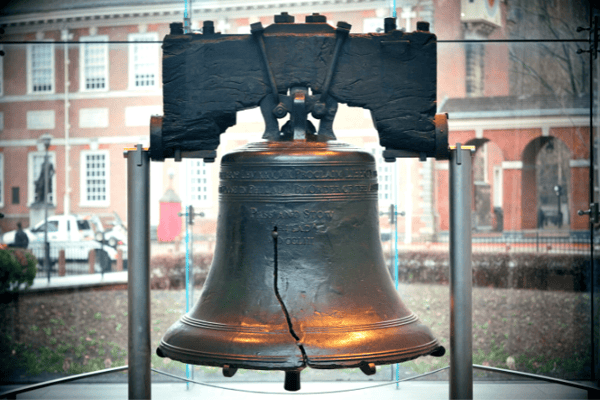 A picture in front of the Liberty Bell is a must for anyone visiting Philadelphia, whether it's for your own personal collection or an excellent shot for Instagram. While you're in the area, why not check out Independence Hall at the same time? Formerly known as the Pennsylvania State House, this is where the Declaration of Independence and the Constitution were signed.
If you're looking for a larger dose of history, there are plenty of other sights to see in Philadelphia's Historic District only a short walk away. These sights include the Betsy Ross House, Franklin Square and the President's House, among many more. You can pack an entire day full of the rich heritage of Philadelphia and never run out of things to see!
2. Attend a Phillies Game at Citizens Bank Park
When you're a sports fan looking into homestay for international students, you might center your search around cities that have plenty of athletic teams on the menu. In that regard, Philadelphia does not disappoint.
During your stay, there are few things you can indulge in that represent the heart of Philadelphia more than a Phillies game.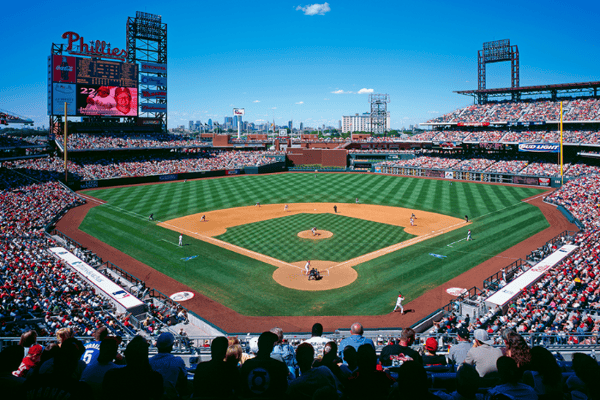 Even if you're not much of a baseball fan, the pure spectacle of Citizens Bank Park on game day is worth the price of admission. Not to mention, students receive affordable ticket prices thanks to the Phillies Student Steal—that means international students too!
Witness America's favorite pastime in a beloved stadium surrounded by passionate fans. And get a glimpse of one of the most famous mascots, the Phillie Phanatic, while you're at it!
If American football is more your speed, the Philadelphia Eagles garner just as much love from their fanbase over at Lincoln Financial Field. The tailgating gets a little crazy on Sundays—it's just something you have to experience for yourself. There's never a shortage of excitement in the Philly sports scene.
3. Visit the Museums on the Benjamin Franklin Parkway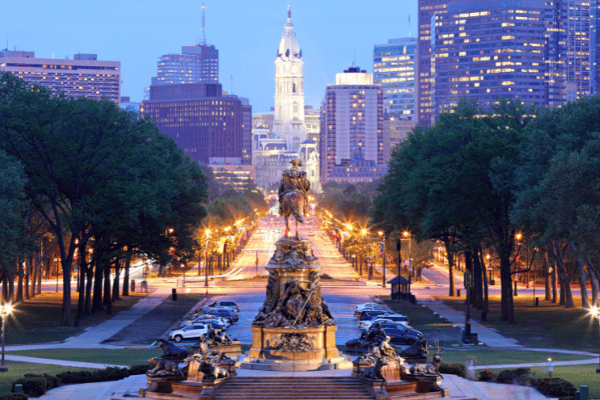 Over 100 years old, the Benjamin Franklin Parkway should be on any list when planning homestay for international students in Philadelphia, especially if you're studying art or another creative field.
It's not called Philadelphia's Most Artistic Mile for no reason!
The parkway runs from City Hall to the Philadelphia Museum of Art and boasts more than a dozen museums, parks and other institutions for your pleasure.
Walk, bike or take a bus along Benjamin Franklin Parkway to take in all the sights.

Get a picture in front of the famous Love statue in Love Park.

Run the Rocky steps and get a picture with the Rocky statue on your way into the Philadelphia Museum of Art, one of the oldest public art museums in the US.

Get hands-on with science at The Franklin Institute.

Browse works by artists and designers at The Galleries at Moore of Moore College of Art & Design, the first and only women's visual arts college for undergraduates in America.

See the T-Rex at The Academy of Natural Sciences of Drexel University, the oldest natural history museum in the country.
You are sure to get your fill of what makes Philadelphia such a hotspot for tourists when you spend a day on the Benjamin Franklin Parkway.
4. Experience and Authentic Philly Cheesesteak
As an international student in Philadelphia, you absolutely must get your hands on an authentic Philly cheesesteak.
Otherwise, you can't say that you've truly experienced the best Philadelphia has to offer Made from ribeye beef and cheese on a crusty roll, some of the favorite toppings for this iconic meal are onions, ketchup and peppers. If that doesn't sound delicious, just wait until you try one.
There are so many places in Philadelphia where you can order up a Philly cheesesteak, but we want to focus on the classic cheesesteak for that authentic flavor.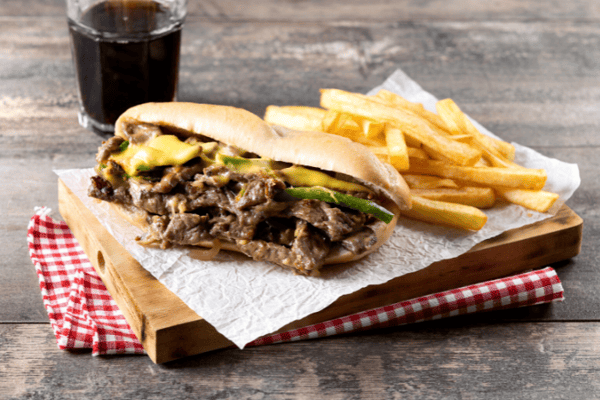 Where you go with your tastebuds from there is up to you. Some of the best places to try authentic Philly cheesesteak are:
John's Roast Pork

Geno's Steaks

Angelo's Pizzeria

Woodrow's Sandwich Shop

Sonny's Famous Steaks

Campo's Philly Cheesesteaks

Joe's Steaks + Soda Shop
This list doesn't even scratch the surface of amazing cheesesteak joints international students can visit in Philadelphia. You'll see countless restaurants where you can pick up this legendary cuisine with any number of styles and toppings available If you're studying abroad in Philly, you have to try one, just to say you did!
5. Take One of Many Tours of Philadelphia
Homestay in Philadelphia gives you the opportunity to experience one of the richest cultural cities in the country. With so much to see and do, it can be difficult to decide how to spend your free time. Maybe you just want to see the city as a whole without committing to any single activity.
If that's the case, a tour of the city is perfect for you!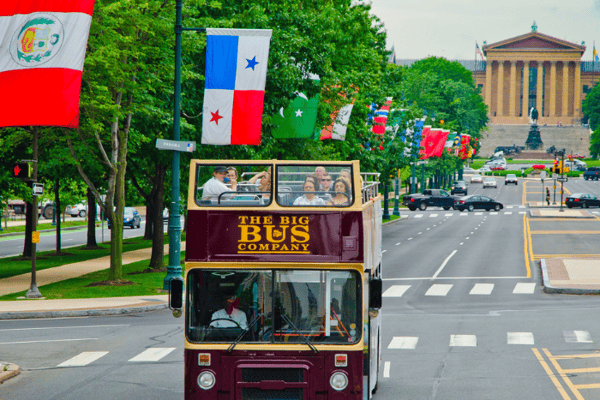 Luckily, Philadelphia offers so many different kinds of tours, it will make your head spin. There are self-guided tours that you can walk or drive through. You can take a tour that focuses on the fabulous murals throughout the city. Take a tour of the historic district. There are even ghost tours through the city at night.
Tour on foot, by car, by bus, on bike, boat or segway. And yes, there are tours where you ride in a horse-drawn carriage.
This is a great way to get to know the city or a facet of it that interests you better. It doesn't matter if you're being led around by a dedicated Rocky Balboa impersonator, someone in 1800's attire, a woman in a cloak holding a lantern or simply by yourself, you're sure to learn so much more about Philadelphia along the way.
---
Are you interested in studying abroad in Philadelphia? StudentRoomStay provides a variety of customized homestay packages for high school and college students! Learn more about homestay pricing in Philadelphia and let the StudentRoomStay team find a self and welcoming host family for you!