Studying abroad can be one of the most beneficial experiences any student can have. San Diego foreign exchange student programs allow you to immerse into a new culture, broaden your worldview and enhance your future prospects. When you finish your study abroad program you will return with a new perspective, language skills, a well-rounded education and a proven ability to adapt and learn. All of these traits will appeal to employers when you take the first steps of your career. You will make lifelong friends as you submerge into new experiences and activities. There's nothing quite like studying in a foreign country to push your personal growth and independence!
San Diego is the perfect destination for you to experience a world-class education in a thriving American city. Here's why it's such a life-changing destination for foreign exchange students.
Interested in studying abroad in San Diego? Fill out this short form and we'll send you more information about homestay! If you're ready to apply, → you can fill out our full application here.
Why Study in San Diego?
American universities are widely recognized as some of the best education institutions in the world. In fact, 5 of the top 10 global universities are located in the USA. There are also more international students in the US that any other country, with around 30% of all foreign exchange students choosing to study in America. There are a wide range of disciplines for you to choose from delivering innovative courses, as you learn from industry leading professors in some of the world's best facilities. San Diego institutions place a real emphasis on diversity, classes contain students from all backgrounds, ages and countries. You will receive a stimulating experience in a rich environment which encourages cross cultural learning. Combined with a variety of clubs and organizations for visiting students to jump into, you will benefit from getting involved with an active social life on campus.
The overall international study experience enhances your personal growth by exposing you to diversity, new activities and greater independence. It enhances your professional growth through world-class institutions, cutting edge technology and innovative research opportunities.
What are the Different Student Exchange Programs?
With so many different foreign exchange student program possibilities, finding the perfect one can seem intimidating and confusing to begin with. Some of the key factors in your decision will be visa requirements, desired length of study and level of study.
Available exchange student programs include:
High School J-1 Visa Programs for Exchange Students

High School F-1 Visa Programs

Short Term Exchange Programs

University F-1 Visa Program
At StudentRoomStay, we understand that this can seem like an overwhelming amount of information to research, so we've created the Ultimate Foreign Exchange Student Program Guide to give you everything you need to know, in one place.
Finding a San Diego Host Family
One of the most important things you need to figure out is where you'll be living. If you want to fully maximize your experience while studying and living in San Diego, finding the right host family is important. When choosing your host family, going through a reputable homestay provider can ensure you have a truly enriching international experience.
At StudentRoomStay, we know that you need to have a comfortable living situation for you to thrive in your new surroundings. Our homestay service allows international families to select from a variety of homestays in Southern California, helping students find homestays that best suit their needs. We thoroughly vet host families and provide several training and orientation sessions providing the knowledge and resources to prepare families to host you. We also stay in constant communication with all our families throughout the student's stay, and provide real-time 24/7 assistance.
4 Reasons San Diego is Life-Changing
San Diego has been given the nickname "America's Finest City". This is due to its superb weather, natural beauty, safety and many attractions. It's built a reputation for its excellent business, education and research environment. This gorgeous city offers everything you could imagine for an enriching and unforgettable student experience. Here are four reasons you don't want to miss out on a foreign exchange program in San Diego:
1. Some of the Finest Education Institutions
There are over 31 colleges within 50 miles of the city, covering everything from arts to scientific research. The diverse range of high-quality establishments ensures you will find the right course and institution for you.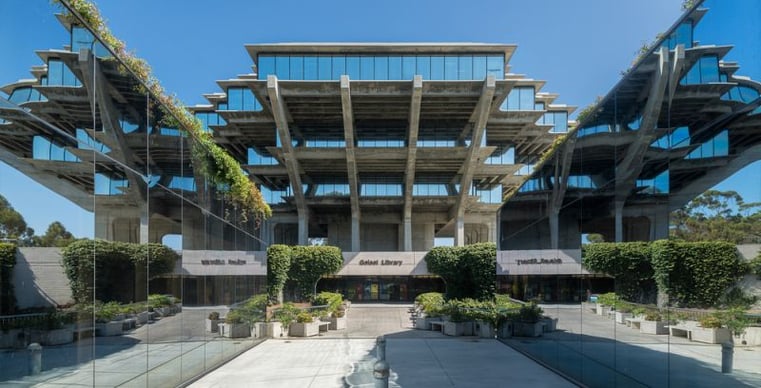 One of the city's most prominent establishments is the
University of California San Diego
, ranked as one of the world's top 15 research universities
.
Unique in its setup, UCSD adopts a small college style system like those in Oxford and Cambridge. Each of the six colleges have their own student residence halls and student services.
The main campus is situated on 1,200 acres of natural woodlands overlooking the Pacific ocean, and houses world-class research establishments such as the Scripps Institution of Oceanography.
With over $1 billion per year budget and 16 Nobel Prize Laureates from the faculty, UCSD is one of the
best colleges in the world
for research based degrees.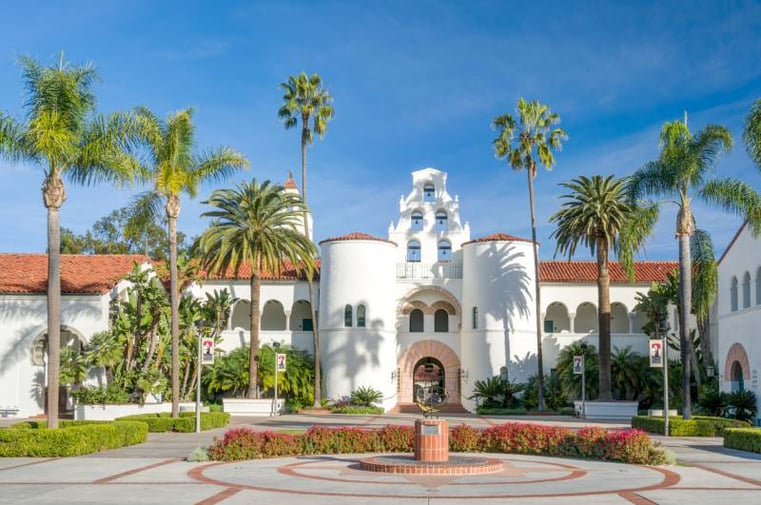 San Diego is also home to San Diego State University, established in 1897 as the city's oldest educational institution. It's famous for its excellent athletic program, which covers 19 individual and team sports, including the NCAA Division 1 football team the Aztecs. It's a nationally recognized leader in campus diversity and it's one of the top colleges in California for students seeking global learning opportunities with almost 400 international exchange programs.
California State University San Marcos is another university situated in northern San Diego that boasts a technology-rich environment led by industry leading professors. There's an emphasis on teaching a curriculum with a global perspective throughout all the academic fields, with a commitment to community engagement. Their award winning volunteer program offers a range of extracurricular activities for visiting students to help immerse themselves into the local community. As the largest economic driver for north San Diego, large businesses are actively engaged with the university, offering plenty of opportunities for students to get involved with and advance their future career prospects.
With many highly recognized institutions to choose from in San Diego, you'll have no problem finding the perfect establishment for your studies. For questions about schools and courses get in touch with us today! We're here to provide information and help you narrow down your choices.
2. World Famous Attractions
Founded in 1769, San Diego is the oldest town in California. Its enchanting architecture, abundance of sunshine and unbridled natural beauty make it one of the most diverse and popular cities in America. From museums to parks, beaches and world-famous attractions, there's no shortage of amazing things to explore.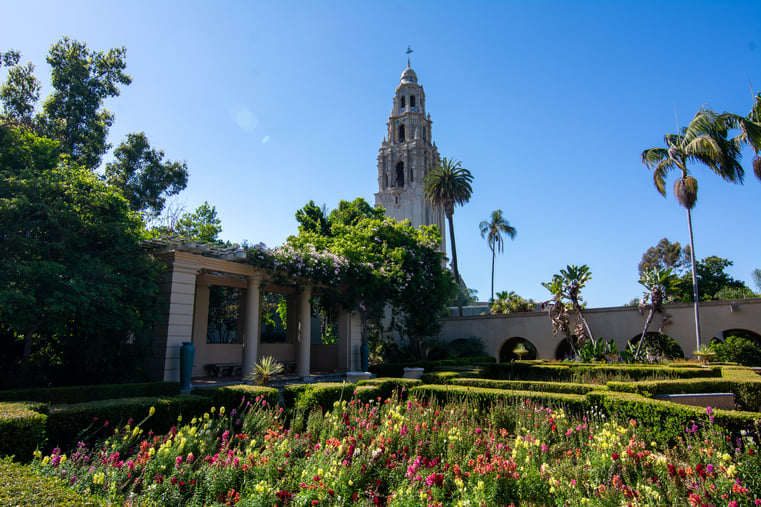 Balboa Park covers 1,400 acres with historical buildings, numerous museums and plenty of green space. Created in 1915, the prominent Spanish style architecture blends in with the stunning natural surroundings. Home to botanical gardens and the world-famous San Diego Zoo, this park is a haven for nature enthusiasts and history lovers alike.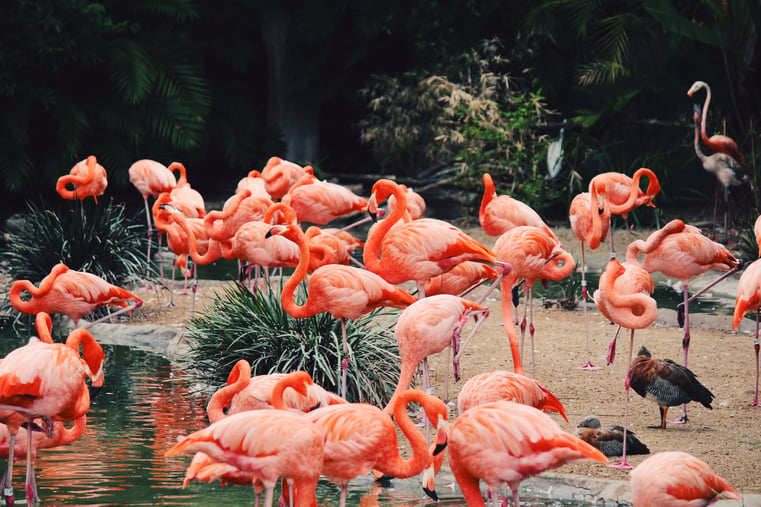 Historic architecture spreads throughout downtown San Diego, where you can find the famous Gaslamp National Historic District. As a piece of history built into a high-end district with over 200 shops and restaurants, it attracts people from all over the world. Take a stroll across the beautiful waterfront and make your way to San Diego's Seaport Village. Adorned with unique shops and restaurants, it's a must-see. Picnic benches and patios make this the perfect spot to enjoy an afternoon of eclectic shows by regular outdoor performers.
If you're tired of the city, enjoy a trip to the Cabrillo National Monument and explore the outdoors. Choose to spend an afternoon spotting the Pacific Gray whales (in the winter months) or take the majestic two-mile Bayside Trail hike which overlooks the entire bay and city.
There truly is no shortage of activities—San Diego will leave you awestruck with unforgettable lifetime memories.
3. Year-Round Exotic Weather
San Diego experiences around 300 days a year of pristine weather. With barely any rainy days for you to worry about, the city's sunshine brings a laid back vibe and plenty of outdoor activities for you to enjoy.
There are over 70 miles of glorious coastline resulting in some of the most picturesque beaches for you to enjoy. Whether you're an avid surfer or a beginner, San Diego has the perfect beaches for you. If surfing isn't your thing, why not explore the ocean? With scuba diving or snorkeling at La Jolla Shores, soft sandy bottoms and stunning marine life it's one of the most beautiful beaches along the coast.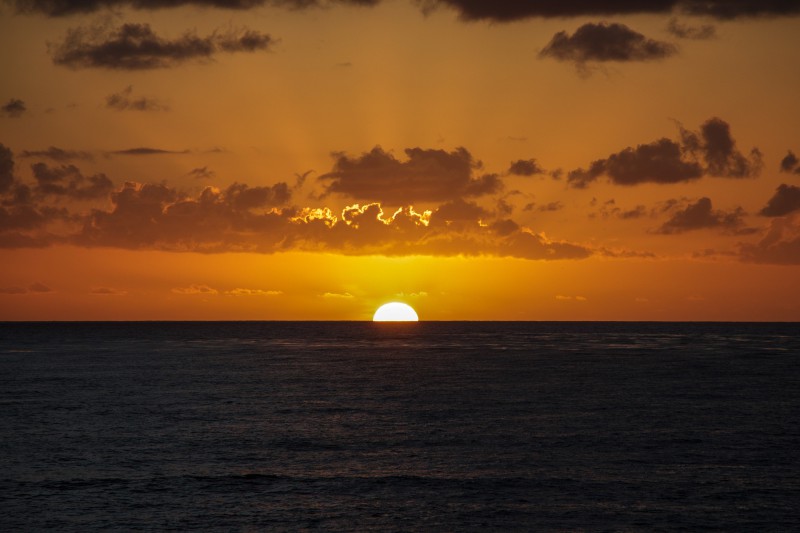 Relax in the evening around a bonfire with friends and enjoy sunsets that will blow your mind. The expansive San Diego coastline has countless beaches for you to relax and surround yourself with the colors, sights and atmosphere of Southern California.
4. Unique and Diverse Culture
California is home to one of the most diverse and unique communities in the United States; nearly 45% of residents speak a language other than English in their homes. International integration is as much a natural part of Californian life as the beautiful weather. Diverse communities, shops, restaurants and traditions from around the world constantly add to the unique culture.
This influx of cultures has brought incredibly vibrant neighborhoods to San Diego, with art galleries and foods from around the world. Barrio Logan is home to multiple art galleries including the largest Chicano murals in the world. Being close to the Mexican border, San Diego is infused with a Hispanic flavor. From authentic Mexican food to events, celebrations and cultures there is always something unique to see and do in across the city.

Discover More With StudentRoomStay
"America's Finest City" is a haven of culture, activities and sun. Steeped in history with one of the most laid back atmospheres in the United States, San Diego is an idyllic location and the perfect foreign exchange destination. Diving into one of the most highly recognized education systems in the world, you'll develop a wider reaching understanding of global education, giving you a competitive edge when entering international careers. You'll benefit from the community aspect with exposure to new cultures and sharing a deeper connection with people from everywhere. Not only will you experience the warmth and beauty of San Diego's culture, but you may just pick up some experiences from every corner of the world.
At StudentRoomStay, we're passionate about helping you experience Southern Californian culture and having the most fulfilling international experience. Whether you need more assistance with homestays, visas or school selection, our services provide support for every step of your study abroad journey.
For more information about studying abroad, living in San Diego or any of our foreign exchange student programs see our packages options for homestay for international students and we'll be happy to guide you through.