From dining to student housing, San Diego has an enormous amount of options to consider if you're thinking of studying abroad. However, the study abroad process can already be overwhelming with new opportunities, different cultures, exotic languages, and a variety of locations.
We want you to be able to focus on the amazing benefits, like discovering your independence, exploring the world, and forging lifelong friendships. For this reason, we've curated all the information you need to know about San Diego to make the decision process that much easier.
Students Love Living in San Diego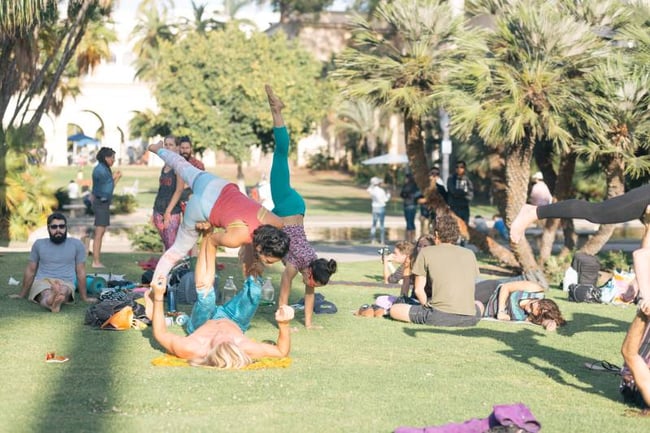 California is appealing to students because it's a place like no other. The way of life, from progressive thinking, out-of-the-box creativity, cultural richness, and environmental responsibility deems the Golden State a world-famous wonder.
When put under a microscope, you can find incredible cities like San Diego. Students love San Diego study abroad programs, not only for its stunning sunsets and fresh urban vibes but also for its fabulous food, beaches, weather, and nightlife. It's the perfect base for other California adventures as well, like a trip to L.A. or San Francisco and a superb representation of the cool Cali buzz we all know and love.


What's It Like to Live and Study in San Diego?
San Diego offers a unique set of advantages for students wanting to live and study in the city. The scholarly potential, awesome attractions, cultural diversity, food, shopping, and natural beauty is both unmatched and a huge reason why San Diego is deemed "America's Finest City."
Top Tier Universities & Career Opportunities
No need to worry about lack of schooling here. San Diego international students have over 30 colleges within 50 miles of the city to choose from, including the University of California and San Diego State University.
The University of California is ranked at #10 for U.S. public colleges, provides a $1billion per year budget, and has 16 Nobel prize laureates on staff, while San Diego State University is a leader for global learning opportunities with almost 400 international student programs. To top it off, San Diego has a strong reputation for both business and education, giving students extra possibilities for career success.
Renowned Attractions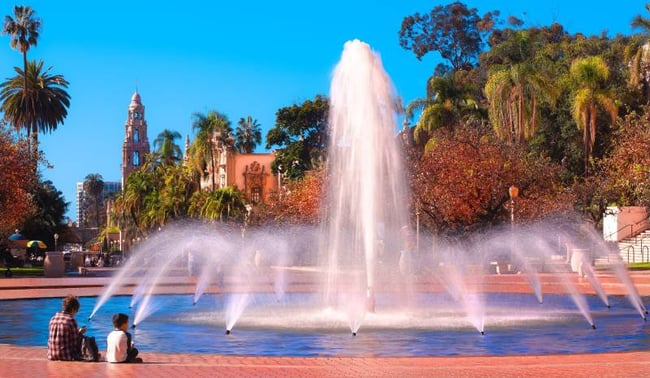 You can't talk about San Diego without mentioning its attractions. Take a day to explore Balboa Park, which is larger than NYC's Central Park, more than 1,200 acres of green land, and includes over 15 museums, shops, and a replica of the Globe Theatre.
The most notable icon inside the park, however, is the San Diego Zoo, one of the largest zoos in the United States. Don't forget to check out the Gaslamp Historic District, Seaport Village, and the Cabrillo National Monument, all must-see, outdoor venues for those who love seeing popular sights.
Cultural Diversity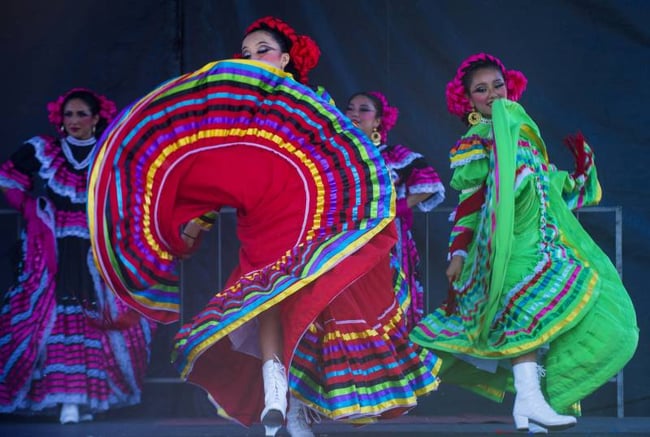 Mexico is just 15 miles from San Diego, giving the city strong Mexican vibes, foods, and feels, while 45% of residents speak a language other than English. San Diego embraces people from all over the world, just as its state is known for, filling the streets with incredibly different cultures, values, characteristics, and food. It's the perfect blend of cultural celebration and acceptance, helping every student feel right at home.
Head to some of the coolest neighborhoods in San Diego to see for yourself, like Little Italy, Barrio Logan, Old Town San Diego, and La Jolla.
Fantastic Food & Shopping Districts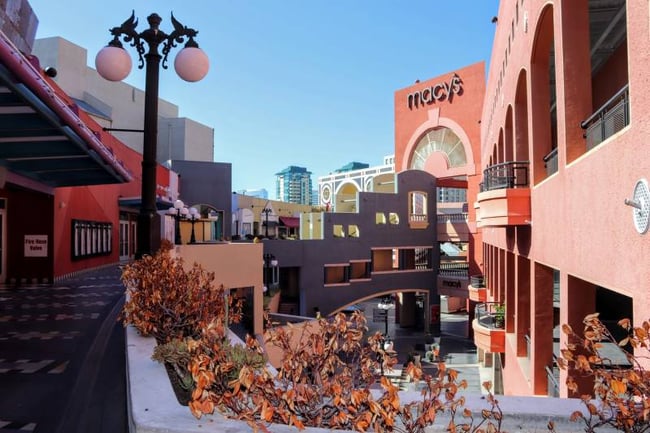 Love good food and shopping sprees? San Diego is for you. The city has a variety of outdoor malls, like Westfield Horton Plaza, Fashion Valley, Hazard Center, Westfield UTC, and Otay Ranch Town Center.
You can find even more unique shops at historic districts Seaport Village and Ferry Landing. When it comes to food, try an acai bowl at OB Smoothie Bar, fried pizza knots at Soda & Swine, and the number 7 at Wow Wow Waffle. There's every cuisine and more, especially when you head to San Diego's unique neighborhoods.
Natural Beauty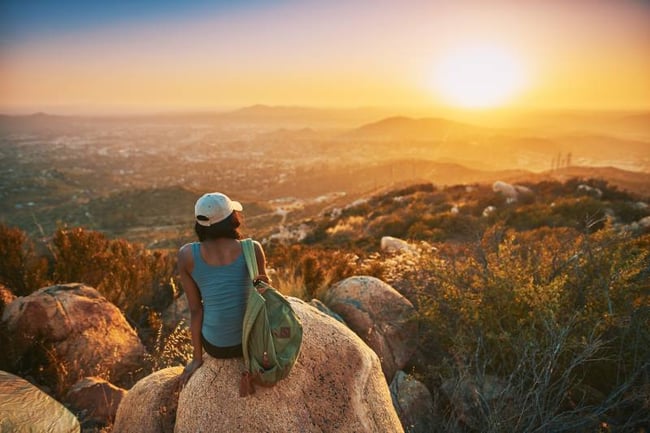 Founded in 1769, San Diego is the oldest city in California, giving it a special, historic glint of architecture. The weather speaks for itself with temperatures staying in the 70's to 80's for 10 months out of the year, while the town snuggles up against 70 miles of beautiful beaches. To top it off, San Diego was deemed #12 for the safest place to live, only adding to its serenity.
Enjoy the sights with a kayak trip through sea caves, a snorkel with friendly leopard sharks, or a cool down at the Waterfront Park. There are always things to do, and you'll never have to worry about hefty winter gear.
Choosing Your International Student Housing in San Diego
When it comes to student accommodation, San Diego has a lot to offer, especially since it's safe, fun, and exciting to live in. But you might be wondering how to prepare or what to know about choosing your housing.
Prepare for the "Sunshine Tax"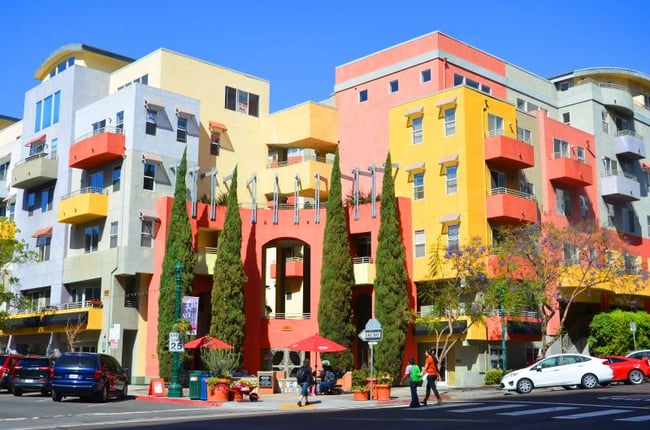 San Diego is more expensive than most cities in the United States. Home prices are elevated compared to the national average, and those living in the downtown area's apartments and condominium complexes have to pay higher homeowners association fees used for maintaining the buildings.
Most San Diegans refer to this cost-of-living difference as the "sunshine tax," or the fair price of living in the perfect weather climate all year round. So as you're budgeting and preparing, keep in mind prices and fees may be higher compared to the norm.
Most Millenials Live Downtown or In the Northeast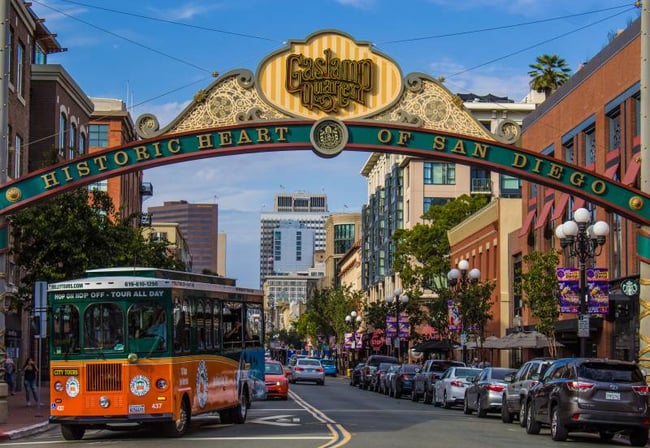 For student apartments, San Diego's downtown area includes a younger community with exciting dining and nightlife opportunities. You can also find the popular Gaslamp Quarter, a trendy area of town full of piano bars and nightclubs, this is where most of the college community hangs out. To find more people your age, you can also head to Pacific Beach and La Jolla, as other popular spots for college students.
Get a Compass Card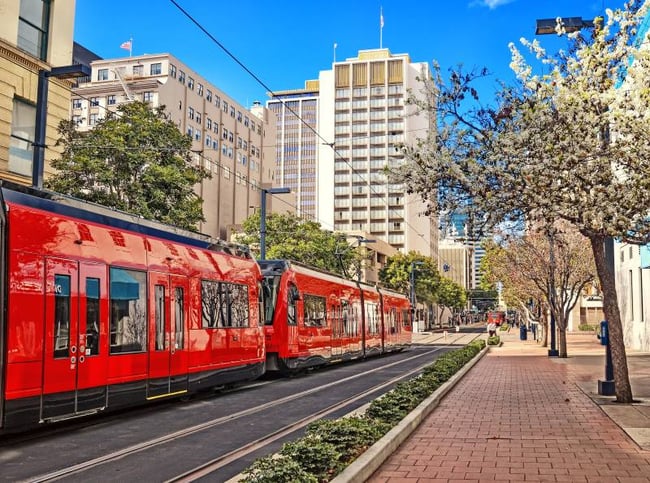 Dealing with a car on a study abroad trip can be frustrating with insurance, parking, gas, and other automobile fees. If you can, rely on San Diego's public transportation system by getting a compass card ahead of time. Even if you don't plan on using it, it'll be handy to have in case of an emergency.
You can also rely on reputable car services, like Uber or Lift to get you where you need to go, otherwise, walking will do just fine as long as it's an easy distance. Weather won't be a problem, after all!
We're Here to Help You Find Student Accommodation That Suits You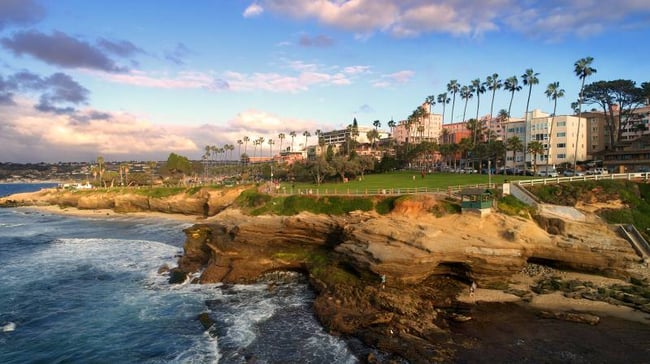 With a variety of restaurants, activities, attractions, schools, and student housing options, San Diego is one of the leading locations for study abroad programs. Between the first-class universities, career opportunities, natural beauty, and safety, it's no wonder why. Don't forget to prepare for the sunshine tax and check out downtown for the college scene, and remember to get a compass card when you arrive.
At StudentRoomStay, we know the housing search can be difficult, and we're here to help. Use our comprehensive online booking system to find your perfect student housing in San Diego and take the next big step.


Topics from this blog: international students sightseeing exchange students student housing