Looking forward to your upcoming semester at Cal Poly or Cuesta College? One of the biggest perks of going to school in this area is the sheer number of amazing San Luis Obispo restaurants for you to try. Not only can you enjoy many different types of cuisine on a regular basis, there's also a thriving nightlife scene ideal for meeting new friends and celebrating all that this time in your life has to offer.
Of course, this isn't much of a surprise to anyone knowledgeable about the area. San Luis Obispo's great location puts it only a few miles from the beach, making it one of the top places in California to go to college.
We're going to break down the best places to eat in San Luis Obispo for college students! Read on to find out why these picks are our "must-try" eateries!
Best Places to Grab a Cup of Coffee
Being a student is a lot of hard work. Sometimes, that means late nights cramming for an exam or wrapping up a research paper. It's important to have a great place to grab a cup of coffee or a smoothie when you need it most. Luckily, the java scene in this area is thriving. There are plenty of coffeehouses for you to get your fix. Here are two of our favorite picks for coffee shops in San Luis Obispo.
Scout Coffee Company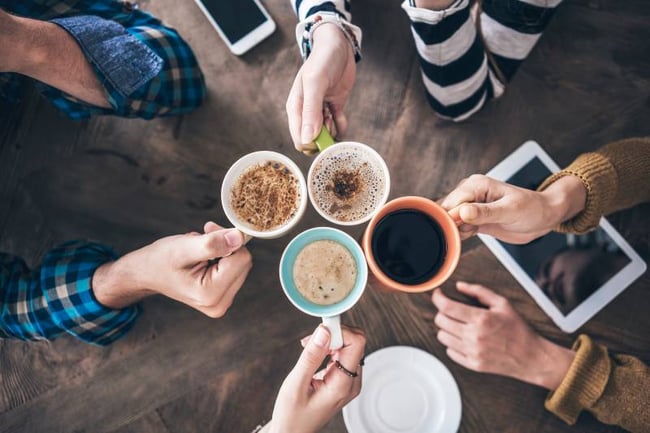 Although there are many adorable coffee shops in SLO, one of the most popular is Scout Coffee Company. They've received top honors in local polls for the best coffee shop in town and were previously featured in Sunset Magazine, New York Times and many others.
The interior of the restaurant is modern and elegant with red brick walls, high ceilings and wood accents. It's a great place to study using the free wifi or meet friends to say hello. The coffee shop is also close enough to campus to make grabbing an iced coffee and a pastry part of your pre-class routine.
As far as the menu goes, it's about what you would expect from an independent coffee shop. All the classic coffee favorites are present, along with housemade pastries and locally-sourced syrups for an added treat. They also offer online ordering, which makes grabbing your favorites on-the-go super simple.
Another benefit? Scout Coffee Company also roasts and sells their own coffee. So, when you head home for the holidays or take the summer off, you can bring a little piece of your favorite coffee shop in San Luis Obispo along with you.
Nautical Bean
If you're looking for a place that is a little more edgy, the Nautical Bean is another really great option. This fun and whimsical café features bold artwork on the walls and a menu that's as caffeinated and punchy as some people like their coffee.
In addition to the usual java drinks, the Nautical Bean is also one of the best places to eat in San Luis Obispo. Choose from a variety of salads, soups, and flatbreads to give you the energy to make it through that late afternoon class.
The greatest part about this place is the atmosphere. From the decorative skateboard art on the walls to an actual Superman cape, this small coffee shop exudes a fun vibe that every college student in the area needs to check out.


Best Places to Watch a Game or Grab Lunch
College isn't all work and no play. Catching a game on the weekends or grabbing lunch with your friends is part of the experience and shouldn't be missed. Although there are dozens of great options, we've decided to highlight two of our favorite restaurants in San Luis Obispo for daytime dining.
Splash

Café
If you're looking for the best clam chowder in San Luis Obispo, you'll find it at Splash Café. Just walking up to the front of this brightly colored artisan bakery will make you smile, as the exterior exudes a sunny yellow-and-blue paint scheme. The staff at Splash Café are also known for being friendly and upbeat. Even when you're not enjoying lunch with friends, it's also a good place to study as they offer free wifi.
Seafood not your thing? Don't worry about it. They bake fresh bread and pastries daily, plus offer a large selection of sandwiches, pizzas, burgers, fries and salads. If you want to celebrate acing that exam with friends, they also offer custom cakes and cupcakes. In fact, the massive menu is one of the reasons why so many California college students love this place.
Want to take some back to share with friends? They offer family pack meals suitable for even the hungriest of college student appetites. And their online ordering process is super simple to use, making the whole process easy to complete from your smartphone or computer.
Old San Luis BBQ
Craving something saucy? Old San Luis BBQ is one of the best San Luis Obispo restaurants to grab a bite to eat. Their Santa Maria style barbeque and craft beers have made them super popular with college students in the area for good reason.
A simple menu with tri-tip, pulled pork and chicken makes it a little easier to decide what to order. They also have great salads, sliders and sandwiches. Don't forget to try their signature chocolate-bacon milkshake, which is definitely a favorite!
The atmosphere of the Old San Luis BBQ is mostly casual, but in a cool California kind of way. They are super popular with beer lovers of legal age, though. The restaurant's unique pour-your-own taps feature forty of their top brews and the ability to pay by the ounce.
If you're busy with all that schoolwork and can't make it in, don't worry. They're partnered up with a few of the best delivery services in SLO including GrubHub, Doordash, Uber Eats and Food Jets.
Best Places for a Fun Night Out
Date night coming up? Night on the town with the girls (or guys)? We've found two really special places in San Luis Obispo for a fun evening out.
Madonna Inn
There's no doubt that an evening at the Madonna Inn is really one of the biggest items on every San Luis Obispo college student's bucket list. Technically, this isn't one restaurant but a hotel with multiple bars and restaurants. It's bright colors, youthful vibe and rich history make it the top spot in SLO to enjoy a night on the town.
As far as dining goes, you have multiple options to choose from when spending time at the Madonna Inn. The Copper Café is a little more casual and offers breakfast, lunch, dinner and dessert until 10:00 PM. Alex Madonna's Gold Rush Steakhouse is much more formal and serves steaks, chicken, seafood and vegetarian fare. Then there's the Silver Bar Cocktail Lounge and the Poolside Bar.
However, what far outshines the food at the Madonna Inn is the atmosphere. For example, the bright pink booths at the steakhouse are just asking to end up on your Instagram page. And the red leather barstools at the café are reminiscent of old-Hollywood glamour. Remember to make reservations, however, as they often fill up fast.
NOVO Restaurant and Lounge
Looking for something outdoors? The chef's at San Luis Obispo's NOVO Restaurant and Lounge have you covered. This gourmet hotspot is noted for their gourmet global fare and exquisite outdoor patio.
Situated creekside, you and your love can easily dine under the stars on a menu that includes items like Singapore Chicken Satay, Thai Red Curry and Filet Mignon. This is also noted as one of the best places in San Luis Obispo for brunch, as they have an extensive menu of favorites.
Dinner isn't the only thing you can get at NOVO Restaurant and Lounge. They also have an extensive dessert menu, which is great to top off an enjoyable evening even if you don't stay for the whole meal. Think mouth-watering treats such as Pear Frangipane and Vanilla Bean Creme Brulee.
Between the atmosphere and delicious menu, you'll definitely enjoy an evening you won't forget. After dinner hours, the NOVO restaurant transforms into a dance floor with a DJ to keep the fun going all night long.
San Luis Obispo College Life - You'll Love It!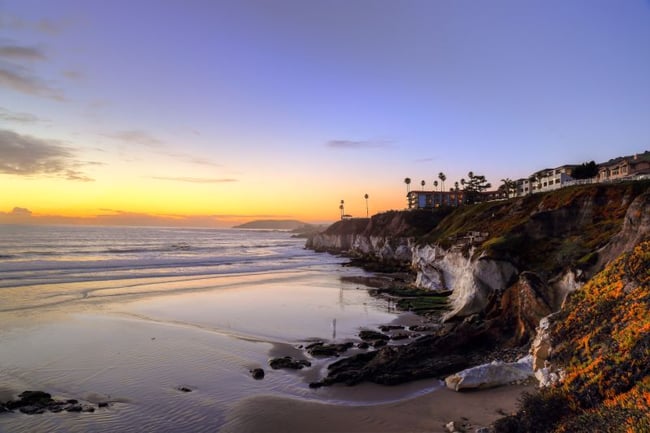 With so many excellent schools and specialized programs in the area, SLO is a wonderful choice when picking your location for college. Not only do you get to be close to the beach and enjoy all sorts of great activities, the various San Luis Obispo restaurants like the ones mentioned above are another great reason to move here.
Best of all, StudentRoomStay makes finding the ideal place to live an easy task. We've put together this great student living guide to get you started. Take a look here to learn more or get in touch with us for further details.