When it comes to student housing, Atlanta Georgia surprises you with its historic charm, diversity, fortune 500 companies and affordable cost of living. As the "Unofficial Capital of the South," Atlanta could be an ideal place for students to explore college life because thousands of people flock to the city for its music and film scenes, phenomenal food, nightlife and sports enthusiasm. It's known for inclusivity, top schools and convenient transportation– perfect for college students trying to explore independence, make new friends and develop a career.
Popular Student Locations
Your location will determine how far you are from nightlife, how easily you can access public transportation and more. Plenty of work goes into finding the right location, which is why we've narrowed down the top places to find apartments in Atlanta for college students.
South Downtown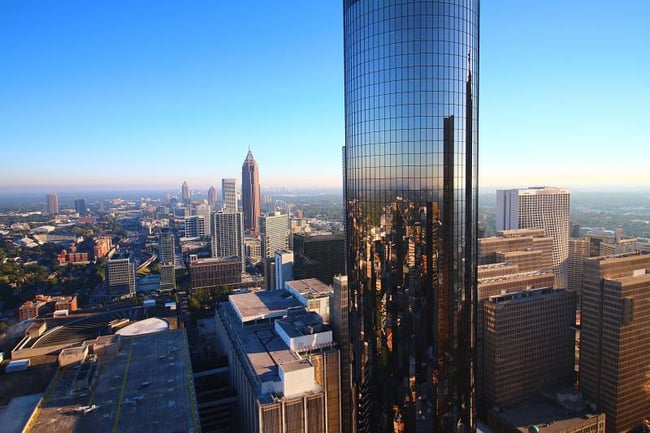 Both at the heart of the city and metro region, South Downtown is all things eclectic, hip and fun. Visit some of Georgia's most renowned attractions, including the Centennial Olympic Park, National Center for Civil and Human Rights, the Chick-Fil-A College Football Hall of Fame, the World of Coca-Cola and the Georgia Aquarium.
There is never a shortage of sights! You can find students at coffee shops on every corner, studying at a local park or perusing the streets window shopping. Thanks to their modern influence, the downtown area is always changing and evolving.
Midtown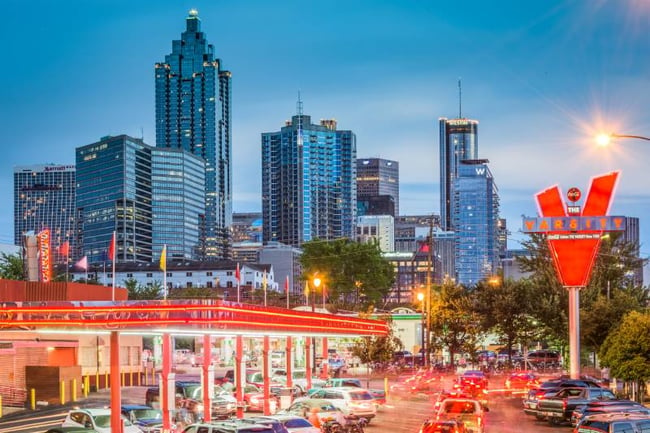 Midtown is smack between the downtown and Buckhead area with loads of hotels, restaurants, museums, art venues and more. You can find Piedmont Park, which is Atlanta's version of NYC's Central Park, the High Museum of Art and the historic Fox Theatre. Students flock to the world's largest drive-in, The Varsity, and the Atlanta Botanical Garden which is home to30 acres of outdoor gardens.
Music-lovers, in particular, love the Woodruff Arts Center campus where you can listen to the Grammy award-winning Atlanta Symphony Orchestra. When it comes to student apartments, Atlanta isn't scarce, especially in the Midtown area because most residents rent out their homes.
Atlantic Station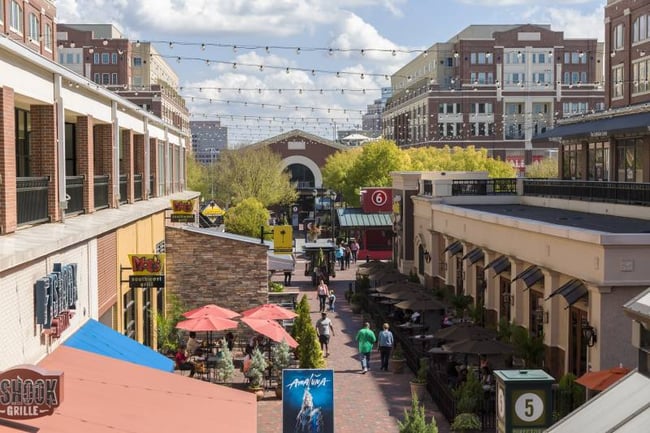 With dense urban feels and plenty of outdoor activities, Atlantic Station revels in amazing shopping, festivities and food. Whether you head to the movies or the local Irish pub, you're sure to spot something new to explore on the way. Conveniently, almost everything is within walking distance, with clean streets and a safe and diverse community. Young adults and post-grads can find plenty of well-paying job opportunities with local businesses and corporations.
Buckhead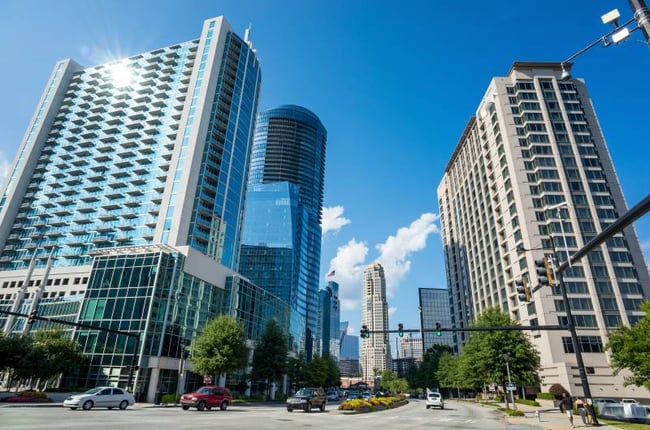 A short 17-minute commute from downtown, Buckhead is known as the "Beverly Hills of the South" because of its upscale shopping centers with high-quality brand name stores like Versace and Tiffany & Company. Phipps Plaza, Lenox Mall and The Shops in Buckhead Atlanta all ensure a premium shopping experience for everyone who visits.
When you're not shopping, grab a specialty coffee at Octane Coffee, treat yourself to gelato at Amorino or head to any of the local golf courses. Even though this neighborhood is known for exclusive shopping, the cost of living in Buckhead is 20% lower than the national average, giving students on a budget a leg up when it comes to housing.
Druid Hills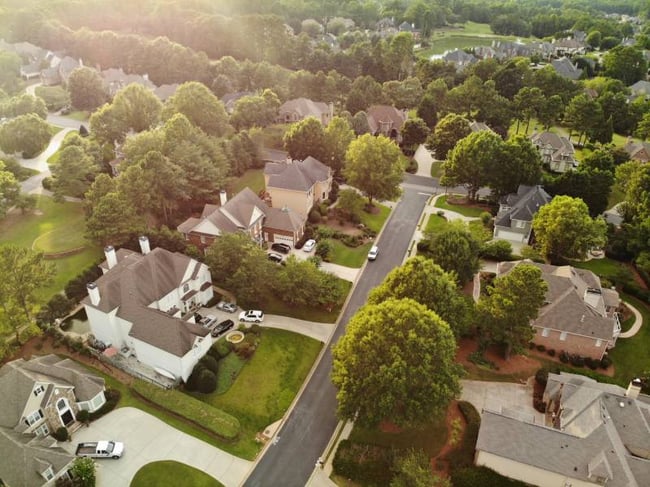 Druid Hills is one of Atlanta's most affluent, tight-knit communities. About five miles from downtown, it houses million-dollar mansions and the Olmsted Linear Park. But this doesn't mean students can't live here. With Emery University nearby, it also contains affordable apartment complexes and condominium communities. Find the young crowd hanging around spots like The Painted Pin, Cameli's Gourmet Pizza Joint and Nitro Zone, the largest indoor entertainment center in Georgia.
Student Housing in Atlanta: Your Options
Student living, Atlanta doesn't just have great locations. The city also has amazing options that are convenient, budget-friendly and easy to book!
Homestay Accommodation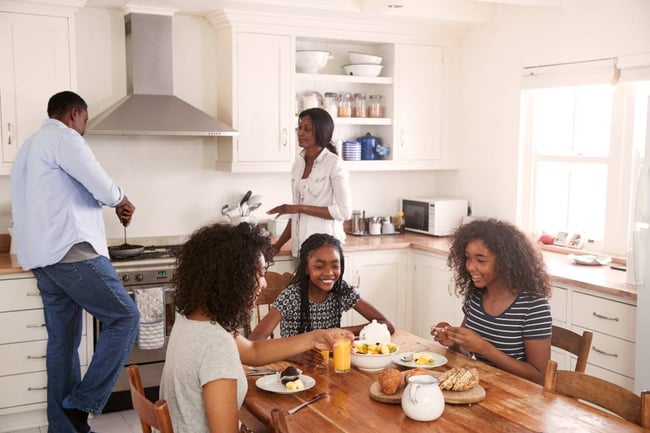 A homestay accommodation involves the student picking a host family from our vetted selection of households. Once they've picked their family and communicated with them during the booking process to ensure compatibility, the family welcomes the student into their home as one of their own. They will provide a private room, study space, meals, transportation and laundry facilities while offering any additional support the student needs.
For safety purposes, all host families must successfully complete a range of background checks, home inspections, interviews, orientations and training before allowing a student into their home. Both the student and family also have access to 24/7 online support during the homestay.
Private Room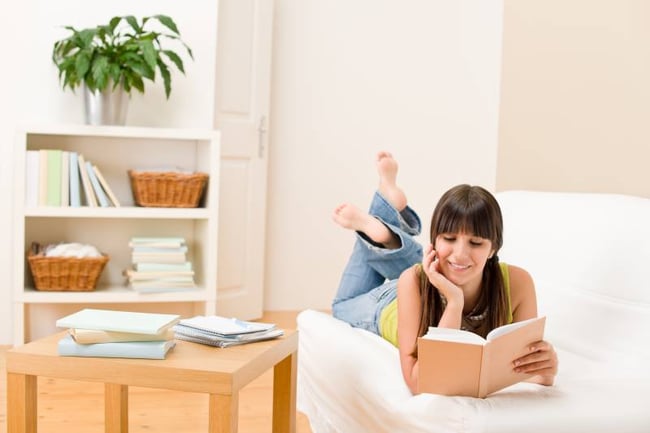 Although with a private room accommodation you do have a host family per se, the family is not obligated to provide support as with the homestay option. This gives students more independence and the opportunity to set the boundaries they want with their host family. You can rent out a private room directly through StudentRoomStay.
Shared Apartment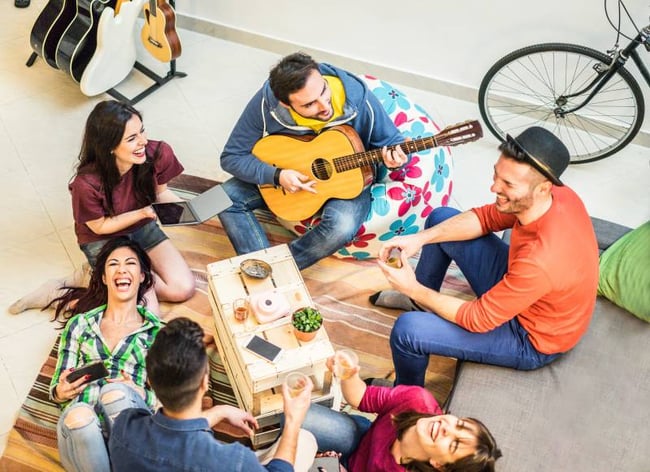 The shared apartment option offers the most autonomy, as you and your roommates will be solely responsible for the upkeep, bills, groceries and more. This option tends to work best when you know you have friends you'd like to live with. Again, you can easily book this option directly through StudentRoomStay.
University Residence of Halls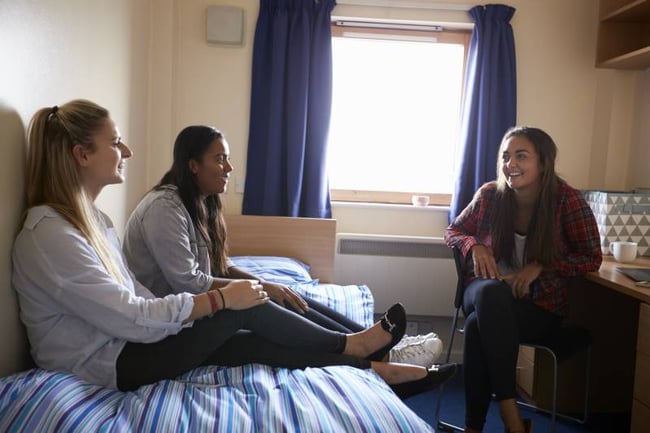 You can always stick to traditional college student housing in Atlanta by staying in your university's dorm halls. If you don't want to worry about rent, a host family and extra bills but you don't mind sharing a private room and bathroom spaces with others, this is probably the best option for you.
What Amenities Should I Look Out for?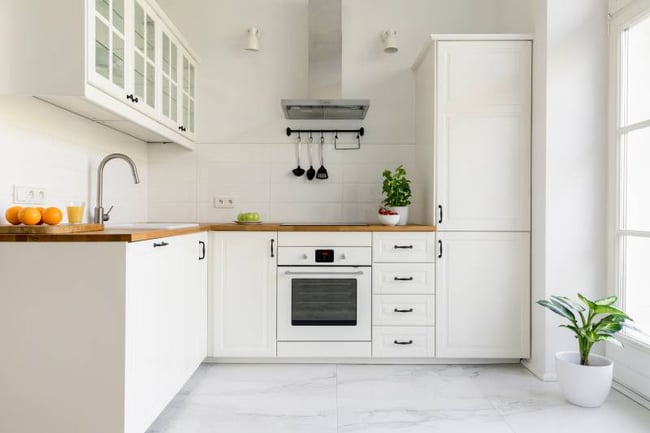 Amenities are things considered essential for easier living. For the best student apartments, Atlanta usually offers the basics like:
Heat & A/C
Wireless internet
In-unit appliances like dishwasher, stove, refrigerator
In-unit washer/dryer
Parking
If you're not price-conscious, you might consider things like a fitness center, pool, study room, clubhouse and elevators. To make moving easier, you may want to look at some already-furnished apartments.
Lease Terms to Understand
When signing a lease, it's important to understand all the terms so you know exactly what you're enrolling for.
Deposit
A deposit is usually the same amount as a month of rent and needs to be paid upfront before you move in. This provides extra security to the landlord if apartment damage occurs, the landlord can use the deposit to pay for the cost of repair and cleaning.
Utilities Fee
Utilities make up the electric, water, gas, sewage, internet and cable bill. Your landlord can either combine these into your monthly rental fee or require you to pay the utility provider separately. For new student housing, Atlanta has an average utilities fee of $151.66 per month.
Parking Fee
Since Atlanta is a big city, parking can be few and far between. To reserve a personal spot through your landlord, you might need to pay a fee, which can either be yearly or monthly. If you bring a car, don't forget about parking fees when you go out, gas prices, insurance coverage and basic maintenance services like oil changes!
Renters Insurance
If you're renting an apartment, you'll likely need to pay renters insurance on the side. This will cover any damages or theft regarding the apartment– not to mention give you peace of mind for any extra-large fees. The average cost of renters insurance in Atlanta is between $15 and $20 a month.
Rental Application Charge
Before you're even considered for an apartment, some landlords require you to send in an application with filled-out details like income, schooling and rental history. To cover the cost of office supplies, credit checks, background checks and sometimes employees, there's usually a small fee between $20 and $50.
Lease Length
This is the amount of time you are required to pay rent and the associated fees. The lease length is typically 12 months long but can vary between 6 to 24+ months.
Guarantor
A guarantor is also known as a cosigner and is legally responsible for your apartment's rent in case you are no longer able to. This again provides extra security for the landlord if you have a low credit score and little rent history. You can choose who your cosigner is, keeping in mind they need to be in a higher income bracket than you. Your guarantor will sign the lease alongside you.
Agreement Documents
This is the lease in written form. Once you sign the agreement documents, you are legally bound to pay your landlord, so be sure to check for errors before writing your name!
Managing Your Rent & Bills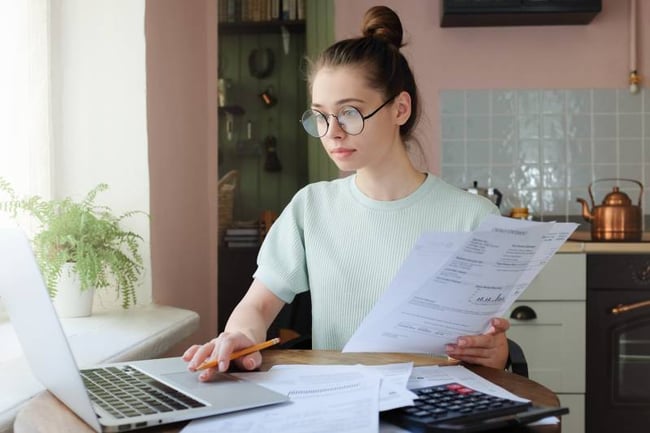 Worried about remembering to pay rent? It can be scary at first, wondering how you're going to manage all of the extra financial responsibilities on top of school and basic needs like grocery shopping. Try not to stress. Managing your rent & bills becomes easy when you use a budget.
A budget is a financial plan that includes your expenses and income. This way you can calculate how much money is going in and out of your bank account.
Another tip is to set reminders on your phone or calendar for the deadlines of bills. You don't want to pay late, otherwise, you could be charged late fees.
Student Living Atlanta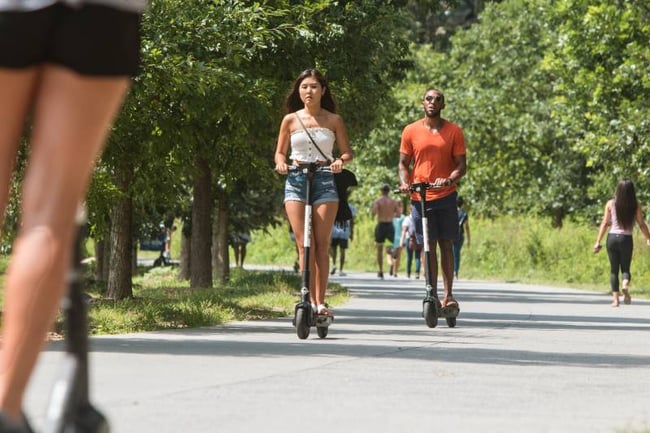 The "Unofficial Capital of the South" is everything a student could dream of: great schools, location, diversity, cost of living and things to do. Let alone the job opportunities! Fortune 500 companies like Home Depot, UPS, Coca-Cola and Delta Airlines are all based in Atlanta, giving students and college grads amazing opportunities for jump-starting their careers.
To complete the college experience, Atlanta is also famous for its popular fast food outlets like Chick-Fil-A, Waffle House and Arby's. Georgia is also a world-renowned filming spot for popular movies like The Hunger Games. You could spot a celebrity!
StudentRoomStay is Here to Help
If you're looking for student housing in Atlanta, you're off to a great start. You can't beat the convenient cost of student living and attractions all in one place! When it comes to booking student housing, it's never been easier than with StudentRoomStay. We're here to help!
Topics from this blog: student accommodation