If you're eyeing Fullerton as your college location, finding off-campus housing isn't something to worry about . This California location is not only perfect for college students needing a home away from home, but it also offers plenty of those CA perks like gorgeous weather, beautiful parks and a host of adventurous activities. Fullerton college housing options are everywhere, with choices like homestays, private rooms and shared apartments. Read on for all you need to know about student housing in Fullerton.
Popular Student Locations
Location can make or break your college experience. It's important to find an apartment that's budget-friendly, close to school and nearby to necessities like grocery stores. Here are some of the top locations in Fullerton students tend to flock to.
Downtown Fullerton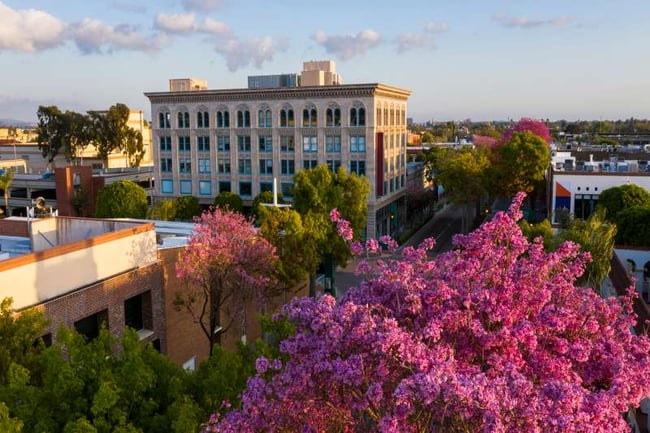 Picture palm-lined streets, low-rise historical buildings and loads of California charm. That's Downton Fullerton! This neighborhood was founded in the 1880s on level ground, which makes walking around and exploring the town a breeze. Whether you're into painting, live music, shopping, restaurants or museums, there's always something to do and never a dull moment. Be sure to hit up Hi-Tech Archery, the 17th Door and Hillcrest Park for some fun! When it comes to Fullerton college apartments, Downtown Fullerton has lots of options to go around. As a bonus, over 2,500 free spots make downtown parking a piece of cake. No need to worry about feeding the meter!
College Park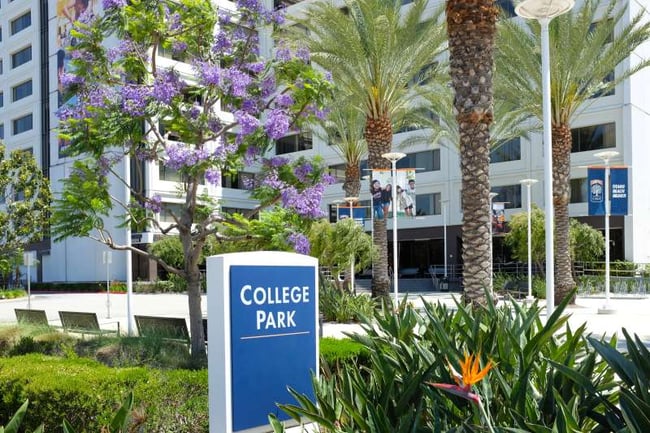 If you're looking for apartments near Cal State Fullerton, College Park is one of the most convenient locations. Here, you can find all of those college essentials that make student living so great: restaurants, coffee shops and friendly vibes. It's a very small community, with most of the inhabitants being either college students or elderly homeowners. The neighborhood is known as peaceful, quiet and safe– great for students who enjoy a slower pace of life. Don't miss out on Ma's Islamic Restaurant for amazing eats and Rutabegorz for to-die-for take-out!
West Fullerton
West Fullerton provides a happy medium between city life and relaxed living. Of course, it offers Fullerton, CA student housing everywhere you look. This city is known as one of the most well-educated communities in the state, placed just behind Irvine. To make things even better, Fullerton is filled with Spanish Colonial Revival architecture, covering the area in stunning red clay tile roofs and mosaic tiles. It's no wonder that the city is a haven for history buffs and architecture enthusiasts! Fullerton has tons of historic properties, old buildings and carefully restored architecture dating all the way back to the early 1900s. Don't forget to catch the Farmer's Market to load up on fresh fruits and vegetables.




Student Housing in Fullerton: Your Options
Fullerton is one of those hidden gems of California, perfect for college students. You will need to find a neighborhood where you feel safe and comfortable to explore your newfound independence. Here are some of the most popular options for on and off-campus housing in Fullerton, CA.
Homestay Accommodation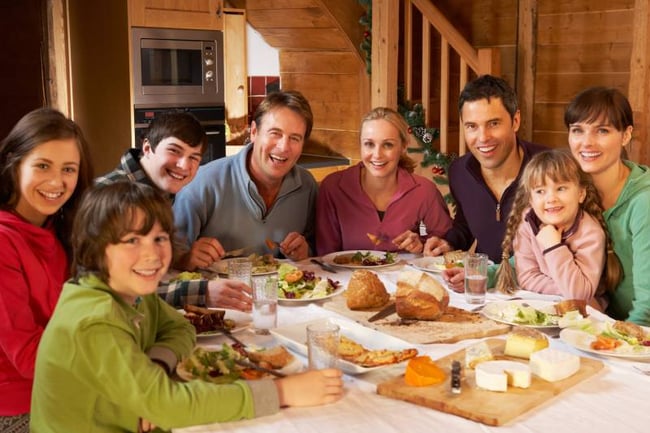 Need as much support as possible in your transition to college life? You might want to consider a homestay accommodation. Here, a Fullerton family will invite you into their home and provide a private bedroom, meals and transportation. They'll be partially responsible for you throughout the homestay.
For added safety measures, every host family must undergo a series of background checks, interviews, home inspections, training and orientation. For compatibility assurance, students can choose their own host family and contact them during the booking process. Both the student and host family have access to online support from our trained staff to ensure the homestay goes as planned.
Private Room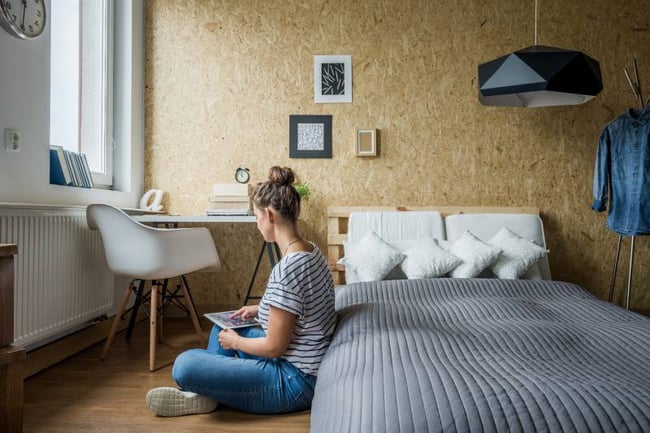 If you choose a private room, you'll stay in a host family's extra bedroom. However, you'll be renting the room directly from the family, and they aren't required to provide you anything else but your private space. Instead, you and your host family get to decide what the boundaries and house rules will look like. It's a great option for students who would rather have more flexibility.
Shared Apartment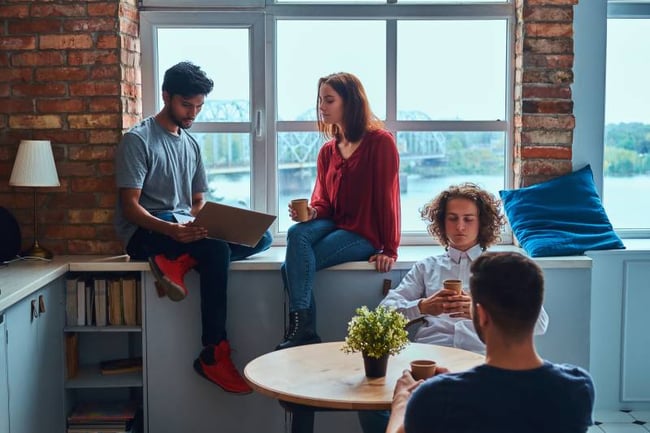 The shared apartment option offers the most independence for students. With this option, you'll share an apartment with other students. Usually, you'll have private rooms but communal bathrooms, living room and kitchen. Keep in mind; you'll also be responsible for rent and all the other bills that come with an apartment, like utilities. This option is great for students who have friends they'd like to live with. Fortunately, there are a handful of apartment complexes to choose from near CSUF or Fullerton College.
University Residence of Halls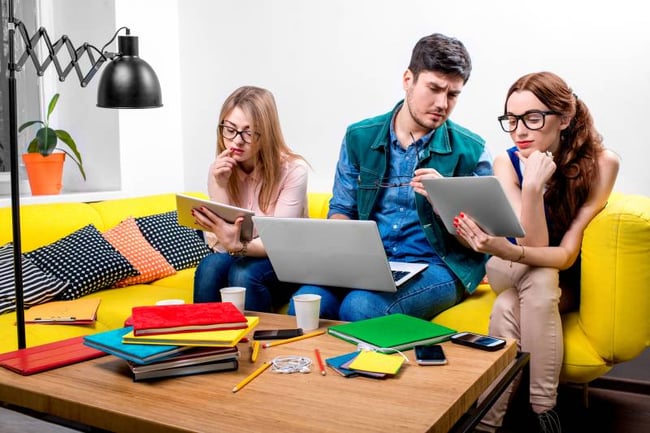 You can always choose on-campus student housing in the CSU Fullerton dorms. Some students tend to prefer this way because there's less to worry about when it comes to bills. Even though you'll share a room and have a communal bathroom, you only have to pay for things like groceries and books. All the other fees are usually included in your college tuition.
What Amenities Should I Look Out for?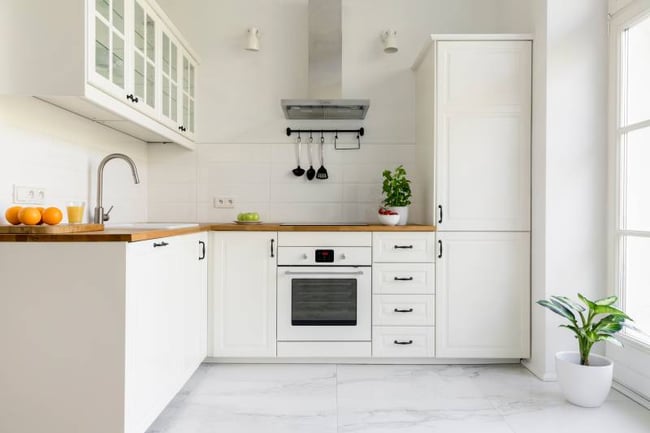 Amenities like air conditioning are easy to take for granted, but some apartments don't already include it or have an extra fee associated with it. Here's a list of must-have amenities to look out for during your student housing search:
Wireless internet
In-Unit Kitchen Appliances: Refrigerator, Dishwasher, Stove, etc.
On-Site Laundry
Parking
Heat & A/C
If you're living on one of the top floors, you might also consider a complex that has elevators, and if you're bringing a pet, ask for permission first, as there's usually a pet fee and breed requirements.
Lease Terms to Understand
It's always a good idea to read your lease thoroughly before signing. You don't want to get roped into anything that's not a good fit. Sometimes lease terms can be overwhelming, especially if you're not familiar with the jargon. To make things easier, we've given you a list of lease terms and their definitions.
Security Deposit
The security deposit is the fee you pay upfront before you can move into your apartment. Typically, it's the same amount as the first months' rent. It's used to cover any damages or cleaning fees inflicted on the apartment and promotes a good faith standing with your landlord. It shows you can not only manage your money well but also pay up when needed.
When your lease is up, you'll be refunded any money that wasn't used for damages or cleaning. If you have a bad credit score and very little rental history, your landlord might require up to 2 months worth of rent as the security deposit.
Application Fee
Most landlords require you to submit an application first and foremost, as a way to vet you for eligibility for the apartment. You'll need to list things like social security, income, and other rental history. To pay for the office supplies, labor, and background checks, they'll ask you to pay an application fee, usually between $20 and $50.
Renter's Insurance
Renter's insurance is what you pay on a monthly basis to cover any extreme damages or theft that happens to your apartment. It gives both you and your landlord peace of mind, knowing that you can pay for unexpected costs that come up. Some require it before you can move into your space.
Utilities
Utilities is another word for describing bills like electric, trash, heat, A/C, sewage, and cable. It's the necessities of your apartment. Some landlords will cover all of the utilities in one bill and simply ask you to pay them back in the rent. However, some will ask you to directly pay the provider on your own. In Fullerton, the average utilities bill is close to $100 a month.
Lease Length & Renewal Policy
The lease length is how long you are legally bound to pay for the apartment. The usual length is between 6 and 18 months, however, sometimes you can sign for a lease that's up to 2 or 3 years long. The renewal policy describes any rules or regulations that go along with re-signing for your apartment. Make sure to pay attention to the deadline date for re-signing and any disclaimers of raising rent fees.
Guarantor or Co-signer
The guarantor, otherwise known as a co-signer, is someone you pick to sign the lease with you. This person needs to be in a higher income bracket than you and able to take full responsibility for paying rent should you no longer be able to. Most landlords need you to have a cosigner if you have a low credit score or little rental history. It's proof of trust.
Agreement Documents
The agreement documents is just another term for the lease as a whole. These are the documents you and your guarantor will sign to legally bind you to the apartment. Read it very carefully, so you don't end up signing for anything you don't think you can handle.
Managing Your Rent & Bills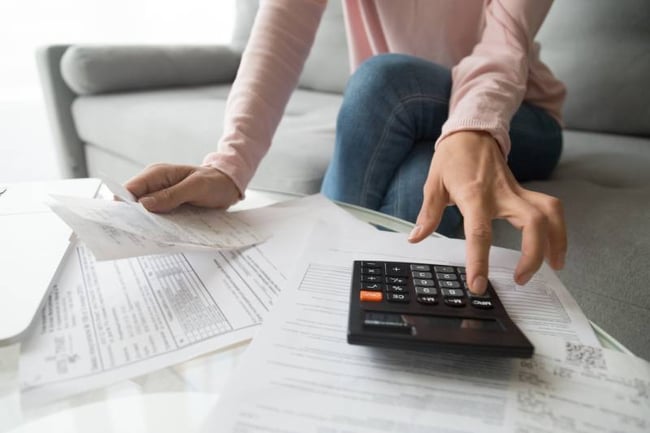 Managing your rent and bills as a student can feel very overwhelming and confusing. But no worries! Here are a couple of tips to bear in mind, as you get used to college life. Firstly, create a budget. Write down all of your income and expenses, creating categories for things like rent, the utilities bill, and even miscellaneous things like nights out. Calculate if you have enough income to cover for everything, and save all the excess money for rainy days.
Secondly, you can set reminders on your phone to regularly check your bank account and pay bills. You can also set some bills to auto-pay, so all you have to worry about is having enough in your account at one time.
Living in Fullerton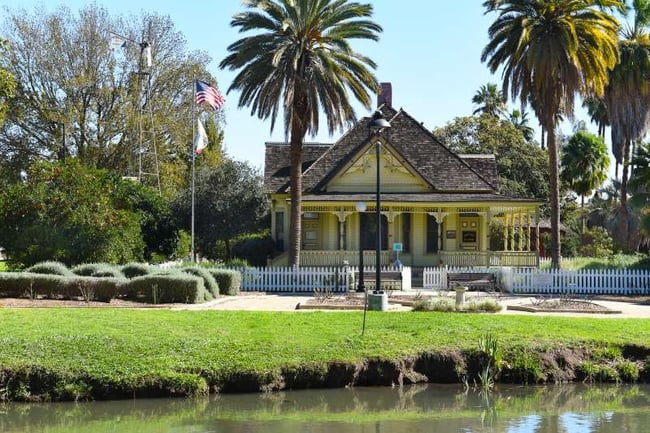 Fullerton makes an effort to keep a balance between modernity and its historic nature. The city worked hard to renovate its downtown area for the past 20 years with cafes, restaurants, shops and entertainment; however, you can still find historic architecture scattered around the area. If you're an entertainment enthusiast, Fullerton won't let you down. It's gathered a stellar reputation for live music with jazz bars, incredibly lively eateries, and all kinds of productions at the Maverick Theatre.
Students particularly love its academic personality. It's known as "The Education Community," with 5 colleges and universities, including Fullerton College and Cal State Fullerton. To top it off, the city embraces flawless California weather all-year-round and is overrun with greenery.
StudentRoomStay is Here to Help
You can rest easy knowing Fullerton off-campus housing won't be an issue; there are so many great options to choose from! However, we know that trying to find the best possible living situation for you can be overwhelming. That's why we've created simple online booking processes and offer 24/7 support throughout the process. Let us help you find your ideal accommodation!