In terms of student housing, San Francisco is one of the best places to live during college. Not only do you get to embrace the melting pot culture and world-renowned attractions, but you also have access to amazing career opportunities and beautiful schools. But where do you start? In big cities like San Francisco, finding a safe, budget-friendly home can be difficult. You need to take a look at this list of great locations, accommodation and living tips.
Popular Student Locations
Location is everything when it comes to San Francisco student apartments. It's important to find a place that's easily accessible, loaded with fun things to do and relatively close to school. The following locations are exactly that and more!
Mission Bay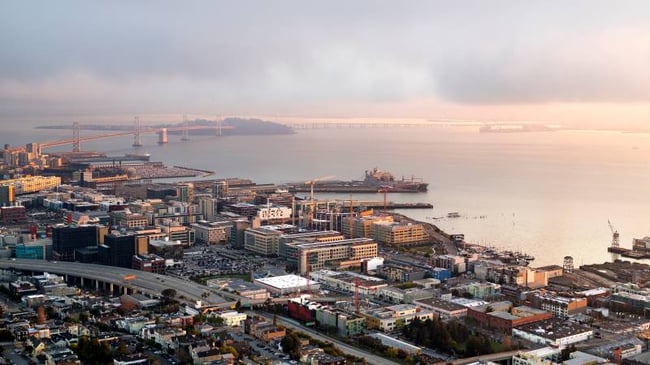 Mission Bay is San Francisco's newest, up-and-coming neighborhood and it's brimming with tech-centric, young professionals. Here you'll find extremely modern North Bay student rentals with specks of historical landmarks and futuristic ideas as large tech companies make Mission Bay their home base. Ambitious students will love the go-getter atmosphere during the week paired with relaxing weekend activities like kayaking, hiking the Bay Trail and visiting the Ferry Building Farmer's Market.
Showplace Square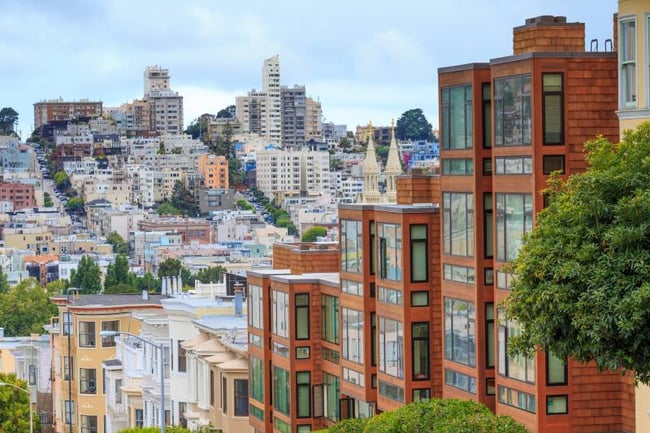 A mere 12-minute drive from downtown San Francisco, Showplace Square is a quaint neighborhood known for its super convenience and young urban feels. You can walk to grocery stores, shops, gyms and bars as well as the many festivals it holds year-round. In true California style, Showplace Square has plenty of delicious restaurant must-tries, like The Grove- Design District, Dumpling Time and Saffron 865. This neighborhood is the best of both worlds for studying and going out for a good time.
South Beach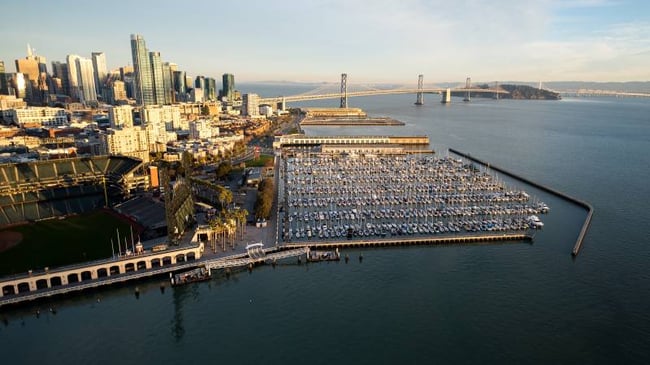 South Beach was home to the 2001 tech boom and still exudes tech-savvy entrepreneur spirit. When it comes to a student residence, San Francisco's South Beach has reasonable apartment prices with hip features. If you're lucky, you might find one with a beautiful beach or Bay Bridge view. Either way, you'll be satisfied with its myriad of trails that run along the coast, buzzing eateries and stunning museums. Don't forget to catch a game of baseball at the AT&T stadium!
Mission District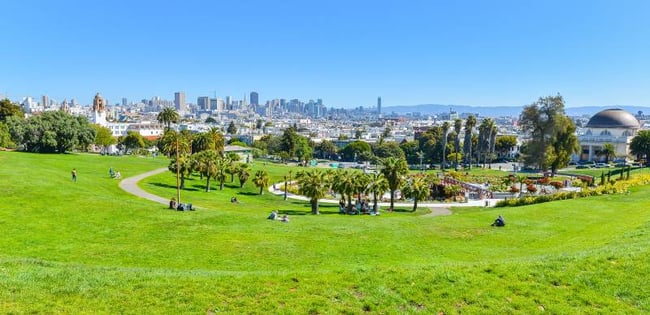 The Mission District is one of the oldest, most diverse spots in San Francisco and has recently become one of the trendiest. The cupcakeries, music shops and boutique clothing stores boast all the rage styles and fads The oldest icon in SF, Mission Dolores, grounds the city back to the 18th century. To top it off, the food is absolutely spectacular - Mission-style burritos and tacos. Students love Dolores Park for sunbathing and watching the sunset fall into the gorgeous San Francisco skyline.
South of Market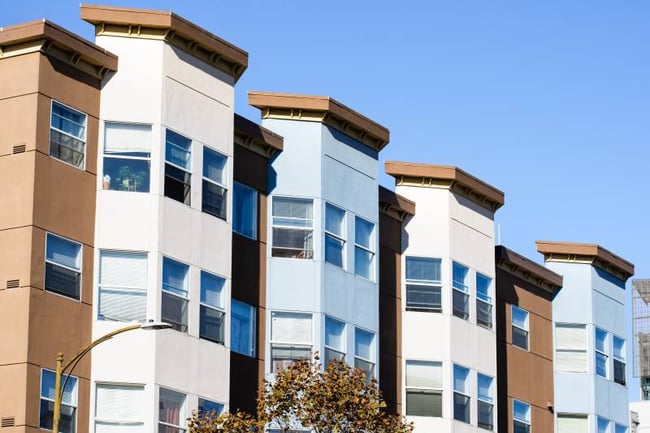 Otherwise known as SoMa, South of Market is huge compared to the above neighborhoods and has an impressive variety of museums, hotels, restaurants and clubs. Thanks to its commercial assortment and influx of young people, there's always something to do. Locals love admiring art at the San Francisco Museum of Modern Art, enjoying the Yerba Buena Gardens or seeing the incredible display of lights at the Moscone Center.
Student Housing in San Francisco: Your Options
For student housing, San Francisco has its perks because you have so many options to choose from. The ones below are the easiest and cheapest ways to live as a college student.
Homestay Accommodation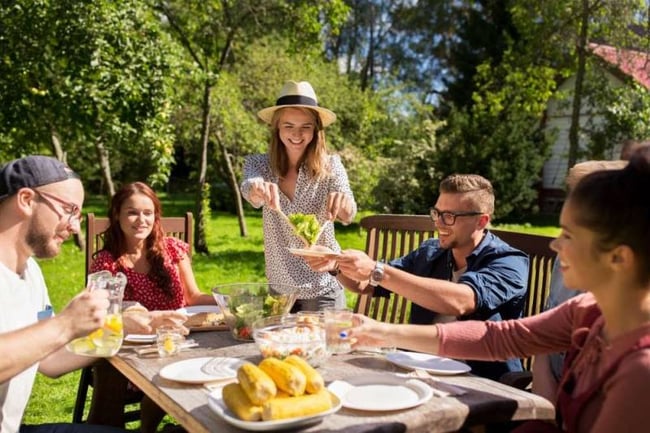 Have you ever studied abroad? If so, the homestay option will already be familiar to you. A host family, who has completed background checks, interviews, home inspections, training and orientations, will provide a private room for you. They will also likely provide meals, transportation, laundry facilities and extra moral support– not to mention incredible friendship as you transition to college.
For your comfortability, you, the student, can personally choose your host family from a vetted selection and communicate with them before you arrive. Most students find this option helpful if they need more support living without their parents. This way, you'll still have an adult on standby.
Private Room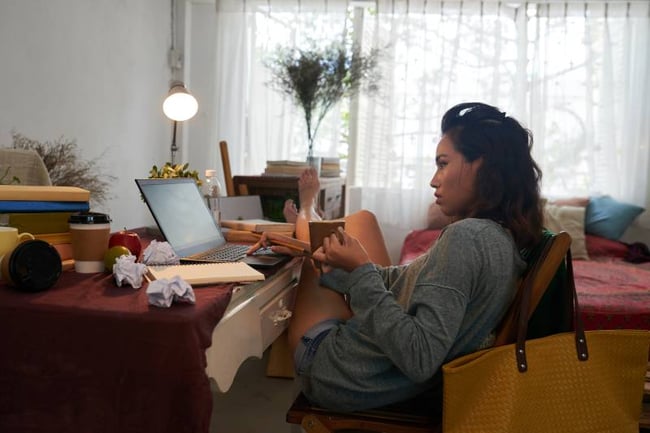 If you want to rent a student room, many San Francisco homeowners have spares! You would live in their extra bedroom and have access to the kitchen and living spaces. With the homestay accommodation, the host family is expected to help you, whereas here, you and your landlord decide what your living boundaries will be.
There are fewer regulations and surety since you'll be solely responsible for yourself, however, there will still be someone else there for support if you ask. You can book directly through StudentRoomStay to find your room.
Shared Apartment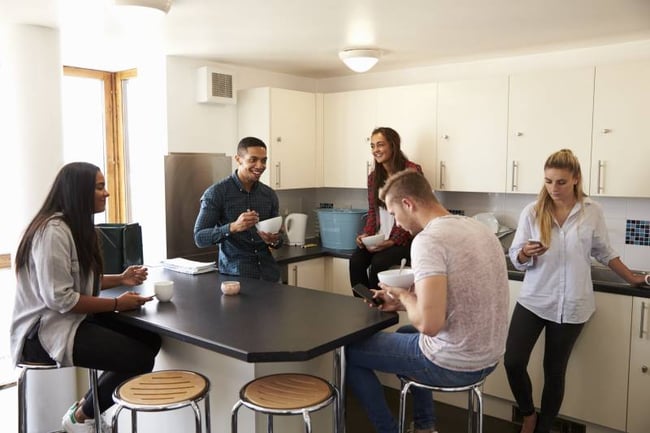 San Francisco apartments for college students are ideal for those who prefer to take care of themselves and their home on their own. Most of the time, you'll have a private bedroom but will share the kitchen and common living areas. If you have friends you'd like to room with, this option is your best bet.
University Residence of Halls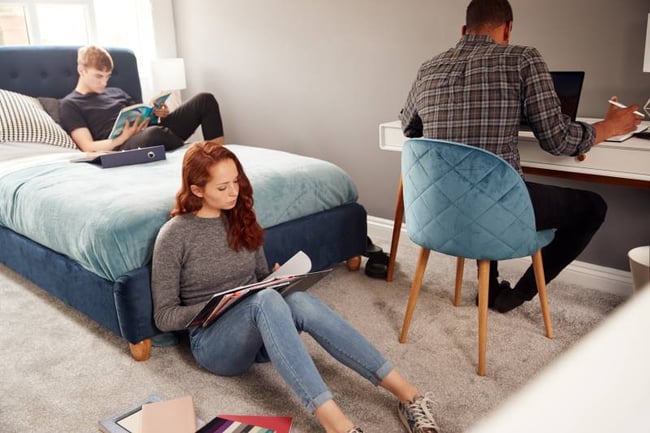 Lastly, you have the San Francisco City college dorms. With this option, you'll be under the supervision of the school and the resident assistants of your hall. You'll also share common living spaces with dozens of other students and will likely share a room with at least one other person. Students who prefer to live on-campus, or favor sharing housing with others tend to love this accommodation.
What Amenities Should I Look Out for?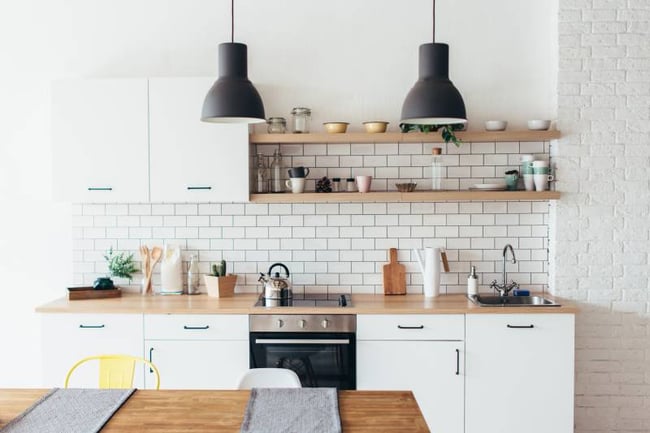 Student rentals in San Francisco usually have all the basics like A/C. But you should never assume! Sometimes, housing, particularly if it's on the cheap side, skips the necessities, which makes your quality of life a lot more difficult. When you're searching, make sure to keep the following amenities in mind:
Heat and A/C

Appliances like dishwasher, stove and refrigerator

Washer and dryer

Parking

Wireless internet
To save money on electricity during the different seasons, you can also look for ceiling fans and fireplaces. Keep in mind parking can be rare in San Francisco. If your apartment doesn't offer it, look for a nearby public parking garage with monthly rental rates instead.
Lease Terms to Understand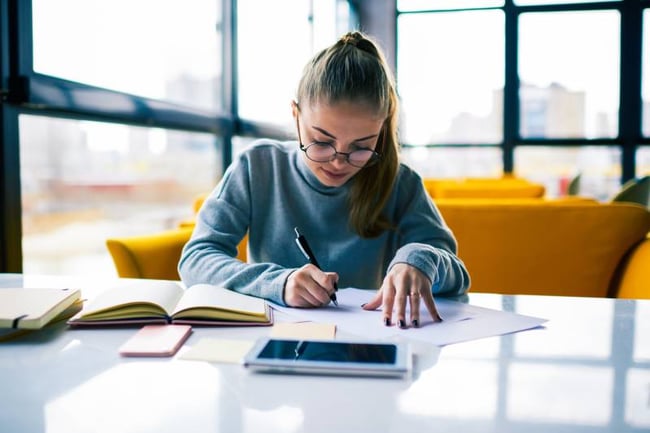 Rule number one of renting: always know what you're signing for! Before you sign the lease, read the agreement thoroughly to spot overcharges and other mistakes. Of course, it helps to understand what exactly you're reading. This is where the below lease term definitions come in handy.
Deposit
The deposit is typically worth the first month's rent. It covers any damages and cleaning fees, then the difference is refunded back to you at the end of your lease. Expect to pay more if you have a low credit score.
Application Fee
You might have to apply for your apartment, especially in high-demand cities like San Francisco. This comes with a fee, however, to cover any credit and criminal background checks. Most cost between $30 and $50 per applicant.
Broker Fee
A broker, or realtor, is not needed in a city like San Francisco, where most renters and landlords tend to work things out by themselves. If you do use a broker for convenience's sake, plan for a hefty price.
Utilities Fee
Utilities include services like trash pickup, electricity, gas, cable and water. Sometimes, your landlord will include this fee inside the rent price, whereas others will have a completely separate charge where you pay the service provider directly. In San Francisco, the average utilities fee per month is $154.
Parking Charge
As mentioned earlier, parking is lacking in San Francisco! There might be a fee to reserve your spot. Remember to budget the cost of car maintenance, too, like oil changes, insurance, tires, gas and breaks. This is especially important because the hills in San Francisco can do a number on your vehicle.
Rent Control
Rent control can be super helpful for students wanting to stay long term. It prevents landlords from raising their rent fees by a certain amount each year, saving you a lot of money in the long run. The annual allowable increase for 2020 in San Francisco is 1.8%.
Renters Insurance
Just like you need insurance for your car, you need insurance for your home. Fortunately, renters insurance is not near as expensive as homeowners' insurance. In San Francisco, the average monthly cost is around $20.
Lease Length
This is the amount of time you are legally required to pay for the apartment. Usually, it goes for around 12 months, but there are also leases that range from 6 to 24 months.
Guarantor
A guarantor is someone who cosigns the lease with you, making them legally responsible for paying if you are no longer able to. Think of it as a backup plan. If something happens to your finances, the landlord needs to know the fees will be taken care of. Typically, landlords require a guarantor if you have no rental history, credit score or maybe have a really low credit score. You can choose who your cosigner is.
Agreement Documents
The agreement documents are the lease in written form. It lays out everything from rent amounts, total yearly charge, deposit and any other fees. This is what you and your guarantor will sign to legally bind you to the apartment for however long the lease is.
Managing Your Rent & Bills
Worried about living in San Francisco as a college student? It all comes down to the numbers. You need to keep track of your spending habits to make sure you'll have enough left over for rent, bills and a comfortable lifestyle as a student. You can do this by creating a budget spreadsheet and listing out how much you'll be spending a month vs. how much you'll be bringing in. Then, plan accordingly.
Living in San Francisco as a Student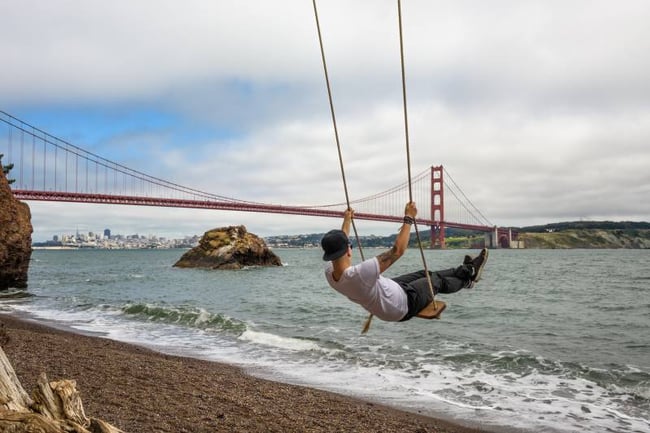 Known as one of the most diverse cities in the nation, San Francisco can easily make any student feel right at home. Nature escapes are always available with the weather huddling around the 60s and 70s all year round, and exploring the great attractions, parks, beaches and food is the norm. College grads take peace in the fact that they're so close to incredible job opportunities with Silicon Valley right around the corner.
Find Your Perfect Student Residence in San Francisco
If you're concerned about finding student housing in San Francisco, the team at StudentRoomStay is ready to help you! StudentRoomStay is here to make the process exponentially easier with a smooth booking process, accommodation assistance and 24/7 support.