If you're looking to live in Santa Barbara, student housing can be very easy to come by. Even though the city may seem expensive, you can still budget your way through college with the myriad of delicious fast food Mexican places, affordable apartments and free outings.
That's right– you can live amongst celebrity houses, dreamy beaches and perfect year-round weather, all while receiving a higher education. UC Santa Barbara, Santa Barbara Community College and Santa Barbara City College housing are scattered throughout the area with living opportunities galore– not to mention the career potential as well. But how do you find the best situation for you? Use this quick guide to living in Santa Barbara as a student.
Student Housing in Santa Barbara: Your Options
Both full of beauty and adventure, Santa Barbara is a wonderful place to undertake a college career. With your budget in mind, here are the easiest and most affordable options, whether you're going for Santa Barbara Community College housing or somewhere else!
Homestay Accommodation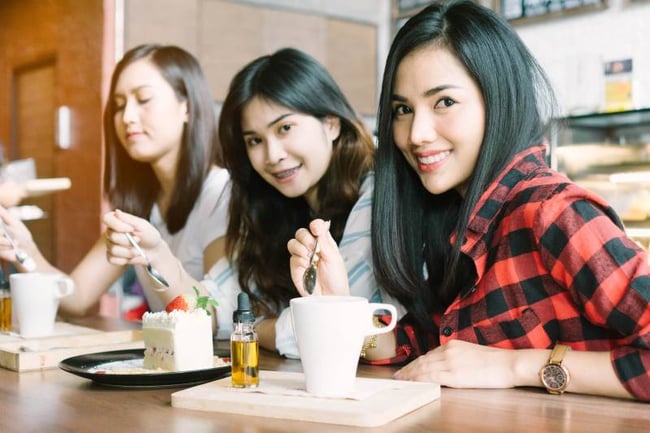 A homestay accommodation is very similar to a foreign exchange student process. A Santa Barbara family will invite you into their home and provide food, housing, transportation and incredible support during the college transition process. Your host family will essentially be your guardians and are expected to take care of you and any other needs that come up.


For safety purposes, all of your host families are thoroughly vetted and screened for the student living process. Each household member must go through a series of background checks, interviews and trainings, as well as general orientation procedures. To ensure you feel as comfortable as possible, students can pick their own host family and communicate with them during the booking process. Both host families and students also have access to 24/7 online support from trained staff.
Private Room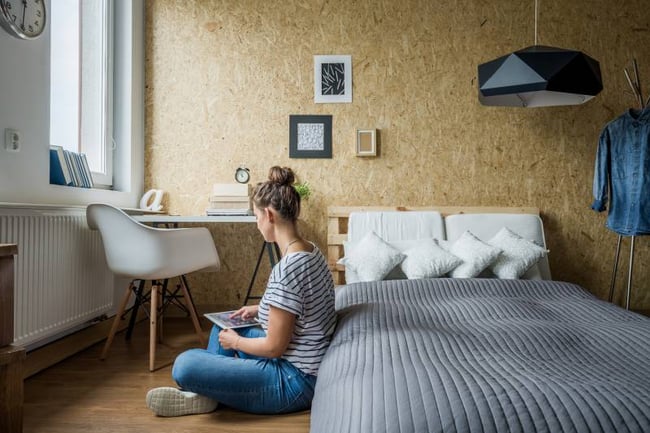 For student housing near SBCC, you can book a private room. This is similar in that you have a host family providing you a room, but they are not expected to hold your hand throughout your stay. Instead, they are simply renting out a room to you. From boundaries to house rules, you and the host will discuss what your relationship will look like.
This option is perfect for students who want more flexibility with their housing. You can book a private room directly through StudentRoomStay.
Shared Apartment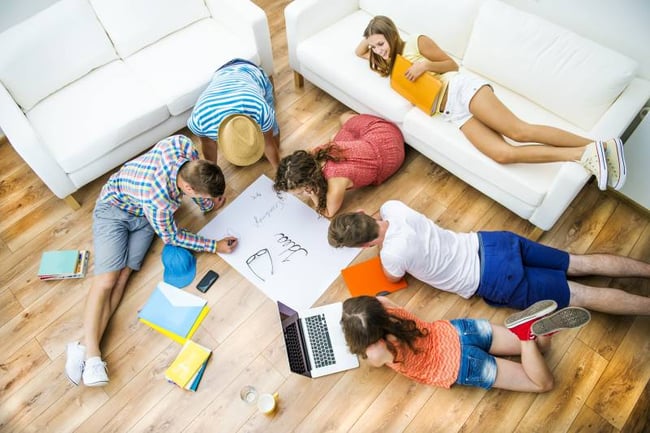 The shared apartment option offers the most flexibility and independence of all. You will share an apartment on UCSB off-campus housing with other students and will be solely responsible for the apartment and its upkeep. Typically, you have a private room like the above scenario, but you will share a bathroom and other living spaces with your roommates.
University Residence of Halls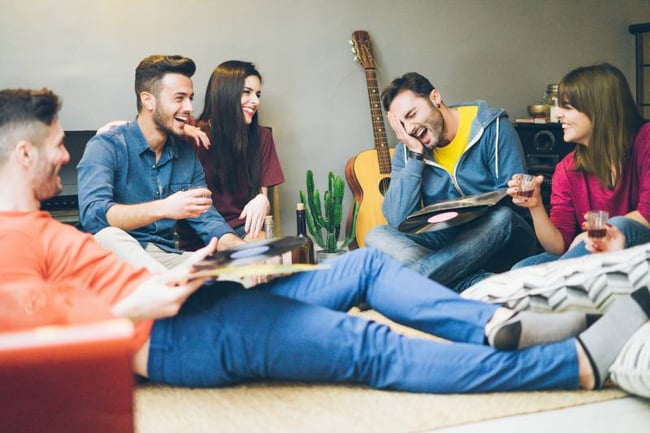 As the last option, you can stay in UCSB student housing, on campus and in college dorms. This is for students who prefer a little more structure in their days, as you will likely share a bedroom with a roommate and a communal bathroom with your dorm hall.
If you don't want to worry about the ins and outs of managing an apartment space, renting and paying bills, staying in your university's dorm halls could be the best option for you.
Popular Student Locations
The beauty of Santa Barbara is unparalleled. Nicknamed "American Riviera," the Mediterranean-like climate, charming coastline and Spanish-Moorish architecture give something for everyone to enjoy. But if you're looking to avoid the more expensive areas, check out the below popular student locations.
The Mesa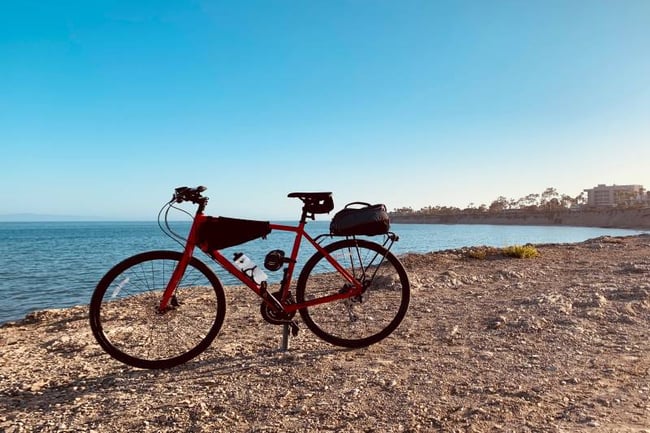 Mesa means "flat-topped table" in Spanish, as this neighborhood stretches over a two and a half mile slab of land right above the sea. Ironically, it's one of Santa Barbara's oldest and most historic areas, yet its communities are some of the youngest demographically. Santa Barbara City College students, young families and professionals flock to this area for its affordable housing, quality schools and lovely parks, all on top of beautiful scenic views. Students have direct access to the SBCC campus and affordable hangout spots, like the Mesa Shopping Center, for coffee shops, eateries and stores.
Isla Vista (IV)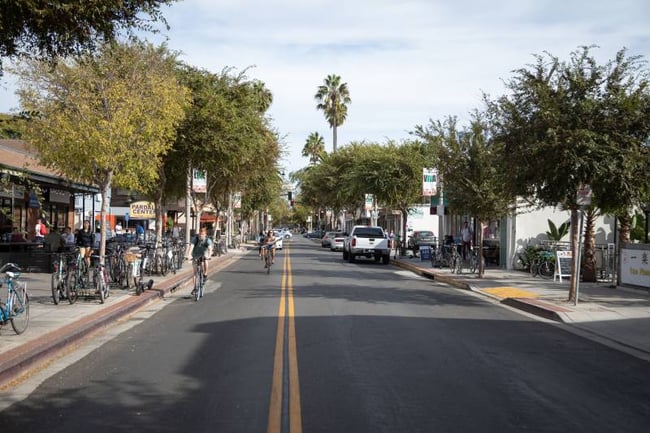 A whopping 85% of those living in Isla Vista are between the ages of 18 and 24. Almost all of the residents attend either of the two colleges in the area, Santa Barbara City College or UCSB, making it the go-to student town in the city. But it's no ordinary college town! With ideal weather year-round, accessible beaches and needed stores within walking distance, it's any college student's no-brainer place to live. Head to the Isla Vista Food Co-op for fresh groceries, The Study Hall for a fun night out, or Woodstock's for the delicious pizza.
Goleta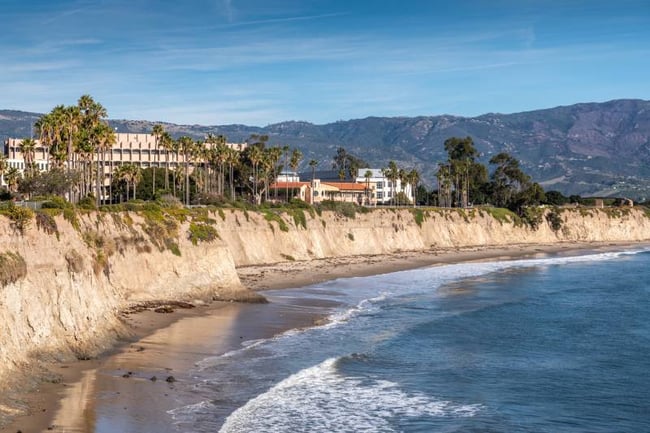 Looking for the most authentic Santa Barbara experience? Head to Goleta, also known as "The Good Land," for a super-local experience. The town is ridden with loads of family-friendly activities like bowling at Zodo's, skating at Ice in Paradise and sunrise walks through the Butterfly Preserve. Perfect for adventurous students, Goleta is just minutes from the Santa Barbara Municipal Airport, Amtrak Goleta train station and right off Highway 101. Since the neighborhood is outside of Santa Barbara, the beaches are typically quieter and less crowded and most adore the quaint combo of coastline and rustic land.
Downtown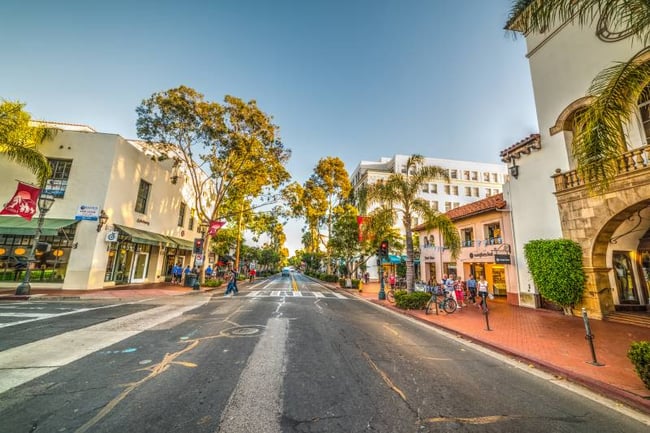 The beating heart of Santa Barbara lies in its downtown streets, specifically State Street. From the palm tree-lined outskirts to the free world-class art galleries, there's so much to appreciate in this little sector. The eight blocks of downtown are all walkable and great for a day out on the town to sightsee. Climb the Santa Barbara Courthouse's clock tower for a 360 view of the city, eat at Renaud's for a magnificent chocolate croissant and shop through Paseo Nuevo, an outdoor mall. If you want to live in a hustle and bustle area with something new to see every time you venture out, the Downtown area is for you!
Westside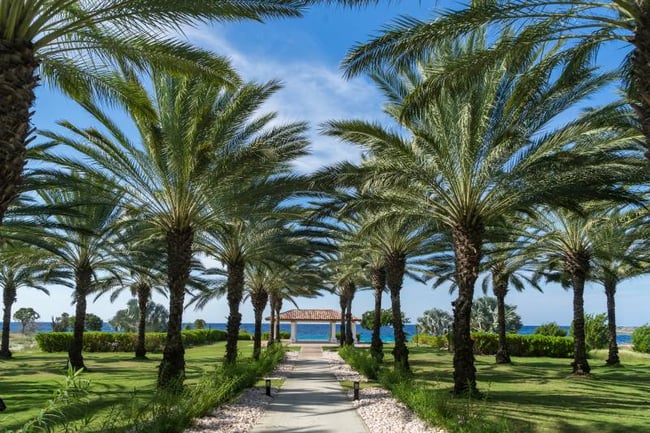 The Westside portion of Santa Barbara is a highly sought after spot because of its close proximity to both the ocean and downtown, as well it's relatively low housing prices. Although it's the most densely populated, it's also the most racially and economically diverse. It's right next to Santa Barbara City College, so there are lots of apartments for rent near SBCC! Students flock here for the easy beach access and budget-friendly perks– not to mention the convenient public transportation, biking and walking. There's something for everyone, from tasty restaurants to long walks on the beach.
What Amenities Should I Look Out for?
Looking for UC Santa Barbara housing off-campus housing for the first time? You might be wondering what to watch for when it comes to things like amenities. Here's what to keep in mind during your search:
Heat and A/C
Wireless Internet
On-Site Laundry
In-Unit Kitchen Appliances: Refrigerator, Dishwasher, Stove, etc.
Parking
Lease Terms to Understand
New to lease terms? At first, they can be a little confusing, but it's important to know exactly what you're signing for. This way you don't become legally bound to a place you don't even want!
Security Deposit
The security deposit is usually the same amount as the first month's rent. You need to pay this in advance before you move in. Keep in mind, if you have a low credit score, the deposit might be more. The landlord requires this for a couple of reasons, one being so that you can prove you can manage your own money. The other being so if any damage happens, the landlord can use your deposit to pay for it. The difference is given to you once the lease term is over.
Application Fee
To pay for office supplies, labor and background checks, some landlords require you to send in payment along with your application. This also helps to weed out those who aren't serious about applying or might not be eligible due to poor credit or criminal history.
Admin Fee
The administration fee is usually charged alongside the application fee; they're common for large complexes run by a property management company. In some states, charging an admin fee is illegal. In California, it's already included in the security deposit.
Utilities
In Santa Brbera the average utilities bill is $150 per month. The utilities make up the gas, water, A/C, heating, electricity, sewage, trash and cable bills. Sometimes all of the utilities are bundled up into one bill. Other times, you'll need to repay your landlord for some and the utility company directly.
Lease Length & Renewal Policy
The lease length is how long you are legally bound to pay rent and attached bills. Normally, it can range anywhere from 6 to 18 months. The renewal policy describes the due date of when you are required to renew, otherwise, you have to leave once your lease length ends. It also describes other rules like increased rent prices for the following term.
Subletting Policy
The subletting policy describes the rules and regulations for subletting your apartment out to another person. If you decide to sublet, you'll want to make sure you go through your landlord, so they can draft up the proper paperwork, releasing your legal obligation to pay.
Guarantor or Co-signer
The guarantor, otherwise known as a co-signer, signs your lease along with you, making them legally bound to your rent payments as well. Typically, landlords require a co-signer when you have a low credit score or little rent history.
Agreement Documents
The agreement documents are the lease in written form, describing all the terms, conditions and costs. Make sure to read this very carefully before signing!
Managing Your Rent & Bills
The single best way to succeed at managing your rent and bills is to create a budget. List everything from rent to groceries and miscellaneous costs like movie tickets. Then you'll have an idea of what you need to set aside each month to cover your financial responsibilities.
Living in Santa Barbara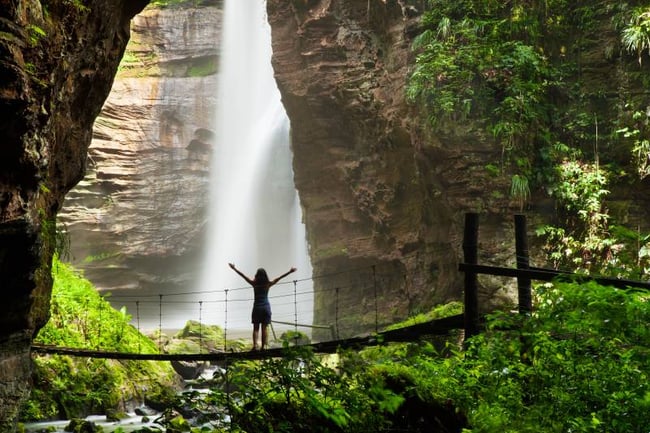 Only a 2-hour drive from LA, Santa Barbara is normally 10-20 degrees cooler than Los Angeles, making this spot the go-to place to escape California's summer heat. From 5-star restaurants and laid back beach activities to gorgeous hikes and hipster coffee shops, Santa Barbara is truly one of the best spots for college students to live out their heydays.
StudentRoomStay is Here to Help
Santa Barbara student housing is high and low all over the city, catering to everyone's different needs and budgets. At StudentRoomStay, we're here to narrow down the search in the easiest way possible with simple online booking services and ongoing support.