Obodo and StudentRoomStay join forces to provide a better housing experience for college students.
San Luis Obispo, CA - Obodo provides cutting-edge technology through their property portal and resident app to improve the renting lifecycle from start to finish. After leading the seed round with a strategic investment into StudentRoomStay (SRS), Obodo technology will be implemented into the brand new SRS app—with every feature included and tailored specifically for student renters.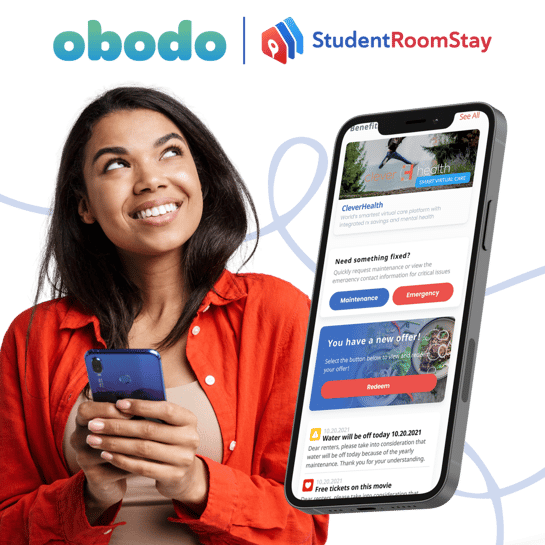 The SRS resident app is designed to close the gaps in communication that occur between students and properties, solidifying a go-to space for all tenant-facing operations. These features take the stress out of renting by securing the move-in checklist, simplifying the move-out process and streamlining everything in between.
"Students and landlords often communicate through an inconsistent combination of emails, texts, phone calls and paperwork, leading to disputes and miscommunication," said Adam Lee, CEO of StudentRoomStay. "The SRS app provides an easily accessible platform where students can safely communicate with their landlords and receive the support they need to enjoy a positive living experience from beginning to end."
Announcements, lease renewals, events and deadline reminders are just a few of push notifications that properties can send straight to their tenant app through their management portal. On the other hand, students can send maintenance requests, direct messages, documents, move-in checklists and more directly to their property managers.
"The beauty of this technology is that it provides immense value for both parties," said Lee. "Students now have residential solutions in the palm of their hand, while properties have the opportunity to engage with their tenants like never before."
This strategic investment is a promising one for both entities. Obodo aims to help all properties thrive, including college dormitories and off-campus student housing complexes. Leadership from both companies agree that letting StudentRoomStay take on that sector will provide students with a more personalized resident app experience.
"There is a sense of belonging that occurs when a residential community develops a strong brand presence and creates opportunities for connection," said Obodo's CTO and Co-Founder Jonathan Sanford. "Tenants feel seen, heard and valued when properties engage with them on a regular basis—that is what this technology is all about."
About StudentRoomStay
StudentRoomStay (SRS) is bringing modern technology to a traditional homestay industry by providing host families across the nation for international students and launching into the domestic market with their brand new resident app. SRS was co-founded by Adam Lee from San Luis Obispo, California and David Bycroft from Brisbane, Australia. The SRS team is based in San Luis Obispo and their network of global partnerships includes the Canada Homestay Network, MyStay International, the Australian Homestay Network, AmeriStudent and the American Homestay Network. SRS is on a mission to help all students, regardless of age or home country, find a place to call home. Learn more at www.studentroomstay.com.
Media Contact:
Mallory Graber
StudentRoomStay
(833) 766-6789
mallory.graber@studentroomstay.com